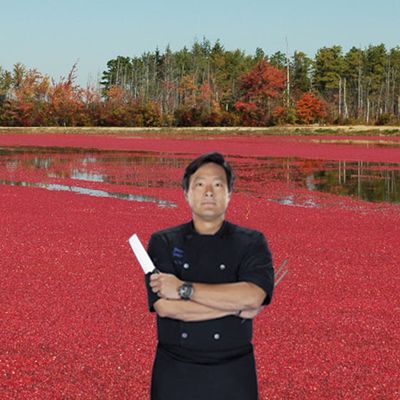 Do you have to let him linger?
Photo: Tsai: Courtesy of Food Network, Bog: iStockphoto
We've just received the somewhat disconcerting news that on October 18 from 2 to 3 p.m. in the middle of Rockefeller Center, a 1,500-square-foot pop-up restaurant will open, surrounded by 2,000 pounds of the finest and most buoyant Ocean Spray cranberries North American bogs can muster. Ocean Spray sets this up every year, but this year, Ming Tsai will host. Why are we bringing this up now? Well, there are only a few days left to enter on Facebook and win tickets to this, definitely the most exclusive pop-up restaurant of 2011 (and likely the best for urinary tract infections). One more ticket to the "Cranberry Mix & MINGle" (see what they did there?) will be given away on the day of the bog-up, and these, my friend, are your only ways in, at least without attracting a heavy police presence.
Lucky winners will be served mocktails and savory dishes. Says chef Tsai, in the press release: "With Ocean Spray's Big Apple Bog celebration, the magnificence of the harvest will provide the perfect backdrop to bring these new cranberry recipe pairings to life." Wait, the cranberry recipe pairings are coming to life? This just gets worse by the minute.
Ocean Spray's Pop-up Restaurant Emerges from 2,000 lbs. of Cranberries Inside a Cranberry Bog in Rockefeller Center [Business Wire]