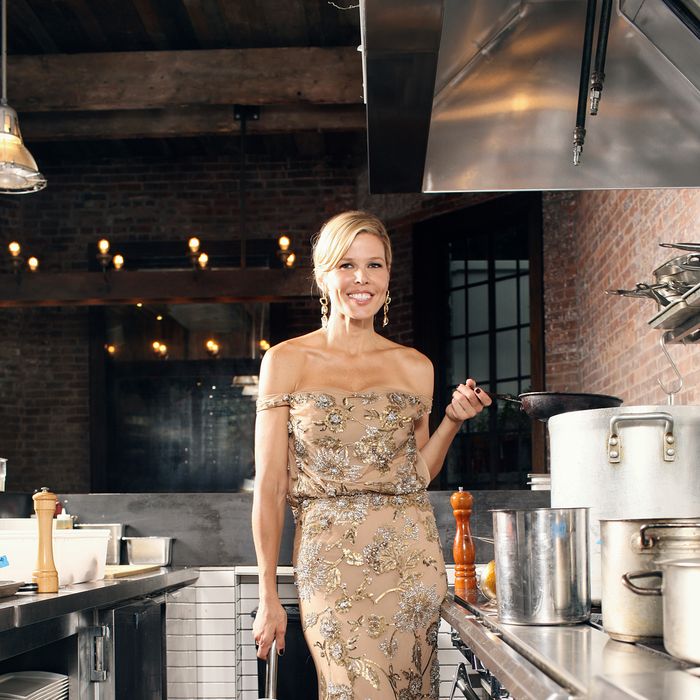 Stephenson in the kitchen of her favorite neighborhood restaurant, Colonie.
Photo: Melissa Hom
Stylist Mary Alice Stephenson spent last week working on a twelve-page spread for W Korea, developing a show for E!, meeting with Alexander Wang and Prabal Gurung about a nail polish they're doing for Sally Hansen, and more. "I always feel like I can eat and indulge when I'm working so hard," Stephenson tells us. Over her twenty-year career in fashion, the stylist and commentator has worked with the likes of Cate Blanchett, Sarah Jessica Parker, and Michelle Obama, and for some of the biggest fashion glossies. During Fashion Week she'll host the DKNY Resort fashion show for AmEx cardholders. Yet while keeping her manicured hands in all manner of stylish projects, Stephenson manages to slurp down a lot of smoothies. She also finds to time to dine out in her Brooklyn hood and make smiley-face pancakes for her 5-year-old son, though most of the time, "coffee is my breakfast," confesses the self-professed lunch and dinner favoritist. Read about it for yourself, in this week's Grub Street Diet.
Friday, September 2
That morning, I shot a cover and twelve-page fashion story for W Korea. I honestly didn't have breakfast. Every Fashion Week is like mania for me. I had this thing I have a lot that's called Billy's Greens, it's "health-transforming super food." It's algae, spirulina, all sorts of roots and greens that give you amazing energy. Cindy Crawford takes it all the time and I learned it at this place called the Ashram. When I'm doing so much, balancing being a mom and having such a busy fashion career. There are some mornings when I don't have time to have breakfast.
We were shooting at Pier 59 studios. They have a new chef in the kitchen, so they catered the shoot. We all stopped for lunch, which is very rare. The food is so amazing. They brought it all out. They serve it to you like you're at a restaurant. They have a chalkboard with it all written out. I had cold broccoli soup, and white bean salad with tomato and peppers and a little bit of farfalle lemon primavera.
Then it was back to business and we basically shot all night. For a late afternoon snack, Pier 59 always bakes cookies and they bring in these trays of warm chocolate-chip cookies. I had a few of those — way more than one, let's leave it at that. We kind of shot through dinner, and I sent some of my team members to get us Pinkberrys. We finished the shoot and celebrated with Pinkberrys. It was a long, incredible day.
Saturday, September 3
All weekend my son was in the Hamptons with his dad. It's different cooking for him, but since I was working so much and he wasn't around, I got to go out more and eat. September 3, we were in our studio in the garment district. I just grabbed a cup of coffee. I have this Alessi French press, which I love, and Union Market in Brooklyn makes this coffee called the Morning Blend, so I had a huge cup and rushed to the studio. Coffee is my breakfast; my meals are lunch and dinner more so than breakfast. I know it's the opposite of what you're supposed to do.
We did a fitting and prepped Joan Smalls for Estee Lauder. We put her in this amazing Givenchy dress that made me never want to eat again. But then — I'm friends with the amazing team that created these customized sandwich shops; it's going across the country like wildfire. It's called Which Wich. There's 51 customized sandwiches. They have yet to hit New York, and I'm addicted to them. My friend Kevin knew I had to work all Labor Day weekend, and surprised me and sent to the studio like ten sandwiches and shipped them to us from Austin, Texas. We got to stop and we all ate in the studio. I had my favorite Which Wich, a Caprese. So long, Givenchy dress; I ended up eating a humongous Which Wich sandwich.
That afternoon we had a big meeting in my studio. Then I rushed back to Brooklyn and had a date — I'm not going to say with who — but I live in Cobble Hill, so I have a lot of date nights in Brooklyn. There's just so many incredible places to eat. I took him to this place called River Deli. I never liked mussels ever; they made me sick to my stomach. I did Rocco's Dinner Party with Padma, and Padma and Rocco made me eat mussels and I loved them. So long story short, I had mussels sautéed in olive oil and garlic and white wine. I had a fried-chicken cutlet and a mixed-green salad with cherry tomatoes. River Deli is this good little secret in Brooklyn for foodies who love Italian food. It's pretty new.
Sunday, September 4
In the morning, I got up and I was going in to meet my friend. I love kale-apple-strawberry smoothies, so I got them at Whole Foods and I met my friend at Union Square. My friend Jodi is curating a new website called RockPaperPhoto, so we were looking at these amazing iconic rock-and-roll images and drinking smoothies.
Then I went to my studio and we met for MyHabit, Amazon's new style site, to create a fall fashion segment. We worked on that all afternoon. I did not have lunch. I had a Kind bar, a walnut-date bar. They're all natural, really clean. My son is allergic to nuts, so I never ever, ever have nuts in the house. But I'll have them every now and then at my office when he's out of town.
Then I took my team and we had a huge dinner at Miss Lily's. We had these cocktails called Pressure Drops, which was perfect, since it's such a pressure cooker right now — we're so busy. It's sake, lime juice, mint in this amazing champagne glass. We nibbled on a bunch of appetizers; we had the jerk grilled corn, plantain chips, codfish fritters, pepper shrimp, jerk chicken.
Monday, September 5
Then the 5th, which everyone else had off, I met my interior designer; her name is Tamara Magel. She came that morning and I went to this incredible little takeout place called Nectar in Cobble Hill, so I got us some blueberry smoothies.
Then we prepped my closet. There were people from Closet Factory and Tamara and her team, so I just ordered us all Layla Jones pizza, which is, for me, the best pizza in Brooklyn.
Then that night I went to my favorite restaurant, Colonie. They don't take reservations; it's jam-packed. It's so delicious. My favorite meal I always get there is the ricotta gnudi. Essentially it's like a cheese ravioli made with ricotta, mascarpone, and grated Parmesan. It's not what you're supposed to be eating before Fashion Week, for sure, but it's amazing comfort food. It is just creamy and yummy. I also love the scallops there. The scallops have this pine nut, curry, pickled apricot. Those are the two entrees I had. It's a little bit smaller, so you kind of have as much as you want. That was kind of a cheese-filled day, but it's okay after working all Labor Day weekend.
Tuesday, September 6
TheCoveteur.com came in and shot my closet. It's an online magazine that shoots style influencers, celebrities, anyone that's cool. I got my favorite muffins from Ted & Honey — it's got the best muffins around. So we all had Ted & Honey muffins and coffee.
Because I was going to do your photo shoot after that one in a dress that was way too tight, I did not have lunch. Well, I had two handfuls of Swedish Fish. When I'm stressed or busy, it is unfortunately my favorite food substitute.
I went to a tasting for dinner. A lot of times I'm so busy during the day, that it's at night that I can really sit and indulge. I like to go to bed with a full tummy. The owner of the Lion, John DeLucie, just opened a new restaurant — actually, it's not even open yet. But they were having tastings there. It's kind of that clubby Upper East Side limestone mansion that is just over-the-top. It's like a bar on a train, that forties French Art Deco kind of thing. Everything's gray; the walls are gray velvet. There's a private dining room like there is at the Lion. There's a huge fireplace, there's modern art. It's super glamorous.
I had champagne vichyssoise, with leek custard and fresh green almonds on top. It had these potatoes, la ratte, these buried treasure potatoes, who knew? They're creamy and really hard to find. It's finished off with champagne. That was my favorite; there was tons of good stuff. A lot of times when I go to these tastings, they'll just keep sending out food, but the champagne vichyssoise was my favorite.
Wednesday, September 7
Then, the morning of the 7th, my son came back in town. We had my favorite buttermilk pancake mix from Trader Joe's, which every mommy has to have in their cupboard. We do them in crazy shapes, and he loves them. We put eyes in them, and smiley faces.
Then I went into the city to my office and did some work, and then ran and met my friend Mark Birnbaum. He's opening a new restaurant called Catch; it's in the meatpacking district. His company is called EMM Group; he has tons of different restaurants and clubs, like Tenjune. They have yet to open, so he wanted me to have a tasting. What's interesting is they wanted to say bye-bye to the three-course meal and promote a relaxed, social approach to food, so it's shareable cuisine, basically. It's a beautiful, amazing, spectacular place. They brought out red snapper for two with oyster mushrooms and pepper and chile-garlic sauce. And then they brought out this thing, Dungeness crab tagliatelle, which has flying fish row and scallion sauce. And then he brought out all these carpaccios, like a whole selection of cold carpaccios: salmon belly crudo with watercress, yuzu and and garlic crumble; octopus carpaccio, which took a little getting used to having, with wasabi and soy and ginger.
And then for dinner I made salmon and broccoli and brown rice for my little guy, and then we scootered over to Blue Marble and had a vanilla chocolate swirl with sprinkles. And you know what? All week I never went to the gym once.