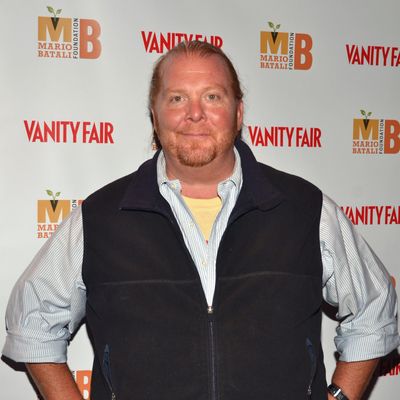 Batali at last night's event.
Photo: Andrew Toth/PatrickMcMullan.com
There's no doubt Mario Batali is busy these days, even by his own hyperactive standards. (Though not with any restaurant openings.) Last night, on the eve of today's debut of The Chew, Molto Mario hit City Winery for a Rock 'n' Wine Benefit, hosted by Vanity Fair and benefiting the Mario Batali Foundation. We managed to slow Batali down long enough to get him to open up about wanting Susan Lucci to be the first guest on The Chew, his failed magazine mogul-dom, which new restaurants he's most excited about, and that time Jimmy Fallon tried to take credit for a Thanksgiving soup Mario made.
Are you excited for the premiere of The Chew?
I am … [It]'s during our golf tournament. You know how it's going? They are going to go live to where we are. So I am on Chew even if I am not in the studio that day.
How will that work?
I am only playing one hole, over and over and over again. They will come out to my hole, my hole will have the pizza oven. I'll take a swing, and then I'll make pizza.
Are you nervous about it?
About the golf? Or the pizza? Neither.
Or The Chew?
The Chew, I am excited about. I saw the first Eater blog. It was a little snarky and they are going to come at us, but the New York press is rarely going to be that excited about a national TV show.
So it is what America thinks, and it is more about Peoria than Manhattan, although Manhattan is going to be a big part of it because that is where we are at.
I am going to make Sloppy Joes and it is going to piss some people off, and it is going to make other people really happy. But I am also going to make fresh orecchiette with homemade sausage and broccoli rabe.
Have you planned Gwyneth Paltrow's guest appearance yet?
Not yet. She is in town this week, but I didn't want to put her on in the first week. It is her birthday on Tuesday, so we will be celebrating her birthday. But my friends will come on [the show] when I am completely confident that we can roll it completely through.
Is there anyone in particular that you would like to bring on?
Jimmy Fallon.
Is he a good cook?
Jimmy Fallon is not a good cook. Jimmy Fallon can cook, though, because he is smart. He doesn't have the necessary intuition, but he does have the hand skills.
Have you ever sat down with him and taught him?
About food? We talk about food all the time, but we have never done a specific lesson. There was a time, maybe three years ago, before he had his new show. He was going to his parents' house, where he always goes for Thanksgiving, and I made a soup with a little duck confit crostino — and he presented it like he made it. Upon closer cross-examination by his family, he finally broke down and admitted he didn't make it. But I think it was a general joyous moment at his house.
What about having Susan Lucci on as a guest?
I struggled so hard; I wanted her to be our first guest. And the powers that be decided they wanted it to be Paula Deen.
Were you an All My Children fan?
I watched it in college! And [Susan Lucci] is a proud member of the national Italian-American Federation, as am I. And I think she is great and truly beautiful.
You are also working on a drama for the CW. What can we expect from that?
It could be interesting; we are still in development of the first scripts and the very first pilot. We have gone through a bunch of ideas and found a bunch of very interesting characters inside the deep mind of a guy named Captain Mauzner, who is the writer, who also wrote Factory Girl. He is smart, he is cool, he is funny, he has been in the kitchen of Babbo for the past two weeks seeing how it looks to open and be there all day. Then he is going to be in the dining room; he is going to see what our world's about.
Will there be anything autobiographical?
No, other than the fact there is some fame involved and there is New York City as a restaurant backdrop. There will be stuff, but it is not me. It is my peers.
Do you think you will bring in guest chefs like they did on Treme?
I hope so. That's what I really want. I want cool cameos from my friends who didn't make the Treme cut.
Anything in particular in food right now that you are really excited about?
Well, I always get excited in September and October when the tomatoes are remarkable and we move in the transition from slicing and putting salt on stuff to cooking it. It is a very exciting time. There are a lot of very interesting restaurants in New York opening right now. Romera is one of them. And I was at lunch at La Mar this week and man … It was on fire. It is a good time in New York if you like to go out to dinner.
Unfortunately they are almost all-high ticket. They are expensive; they are unique and showing the world that New York City is not only the place for its own homegrown stuff, but other fancy people are coming to try to see what they can do [here].
You have done almost everything … do you think you would do a magazine like Lucky Peach?
Magazine? I tried to get into the magazine business this year, and we did a very little twenty-pager that we tried to do by advertising, and that was a very difficult thing — and we didn't sell it, we gave it away. That didn't make any money. After six issues, we folded, and that was because I wasn't ready to devote any of my team … There is a whole world of magazines that I thought I could do internally. I don't have the infrastructure.
That was a really interesting conversation that they had about mediocrity in Lucky Peach.
Oh yeah, absolutely. And they were drinking. They have got to stop drinking. It is not as hip to be drunk anymore, it's a little silly.
Who are really exciting people to watch?
I had an unbelievable dinner at wd~50 this weekend. It was better than I remembered, and I remembered it being good. I don't know why I hadn't been there in a couple of years … I was at Le Bernardin last week; that place is on fire. The food is better than it's ever been. And I hadn't been there in a long time.
I stopped going to the fancy places and I more just drive around my house and go three blocks away, which is good, but there is so much going on. This guy Gastón [Acurio] at La Mar — it was a spectacular meal, just so nice and so light and so thoughtful. The staff was well trained. It didn't feel like an opening, it felt like a great restaurant in a great city. Maybe not New York.