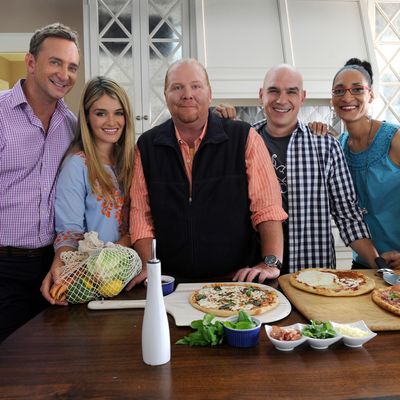 From left: Clinton Kelly, Dr. Oz's daughter, the guy from that book
Heat
, Mr. Clean, Hootie Hoo.
Photo: Ida Mae Astute/ABC
Okay. Is everyone ready? Today's the big day: The Chew is finally, actually going to premiere. It seems like just yesterday we were first hearing of this crazy concept and its oddly off-putting name (we still haven't warmed up to it). Then last week we got to go to an early behind-the-scenes taping, and just last night we learned that Mario Batali is going to mark the big occasion by doing a live pizza-making segment while he's … golfing? Okay, we'll have to see how that last bit shakes out when it actually airs. Anyway, for all you poor people who aren't near a TV in the middle of the afternoon on a Monday, we've got you covered — check back here at 1 p.m. for the full live-blog.
12:51 p.m. Apparently Mario spent the morning on a boat. Charmed life, that guy.
12:53 p.m. Did anyone see that All My Children wrap party skit on SNL this weekend? It's not great, but you've got seven minutes to kill before the show starts, so you may as well watch it.
12:56 p.m. In New York, the show is getting a real strong lead-in: the syndicated version of Who Wants to Be a Millionaire? Contestant is really stumped on a question about Jesse James. (The cowboy, not the guy who was married to Sandra Bullock.)
1:00 p.m. Music is starting. Debating turning down the lights in the office for the full theater effect.
1:00:57 p.m. Took less than a minute to get a shot of the "Got Pork" tattoo Michael Symon has on his chest, and for him to describe his cooking as "meat-centric."
1:04 p.m. We're in-studio now meeting the hosts. Conspicuously absent from the studio: Mario Batali, who actually is on a golf course. Carefully calculated move, or scheduling snafu?
1:08 p.m. Symon is cooking a dish called "pork and bean supreme", but the hosts are oddly not paying much attention to the actual cooking. Crowd cheers when he deglazes with a little white wine.
1:10 p.m. First-ever ad on The Chew: Jennie-O turkey. History is being made.
1:15 p.m. Back from the ads. Symon is serving his pork to a panel of audience members. Only one person on the panel is a dude.
1:16 p.m. Recurring motif: Every time the hosts mention wine, they allude to the fact that Clinton Kelly loves it. Happened twice so far.
1:20 p.m. One-third of the way through this thing. Let's recap what's happened so far: Michael Symon cooked some pork with kale. Clinton Kelly snuck in another joke about his love of drinking before the most recent ad break. We get it, Clinton. You get rip-roaring drunk as soon as the cameras turn off.
1:22 p.m. Daphne Oz's segment is called "Things My Dad Taught Me." Her dad is Dr. Oz, remember?
1:23 p.m. ZOMG. DR. OZ IS HERE! The crowd is loving him. Symon, too! And… Dr. Oz proceeds to pull the classic parent move of instantly telling embarrassing stories about his daughter.
1:27 p.m. You'll recall Frank Bruni once called Dr. Oz's diet "the most efficient, joyless eating I have ever seen."
1:30 p.m. Halfway through and an almost complete lack of Carla. Also: Still an actual complete lack of Molto Mario, which continues to blow my mind.
1:36 p.m. Carla's parents in the house! Carla, meanwhile, is making some pancake recipe she found in her 40-year-old Betty Crocker recipe box.
1:39 p.m. Carla: "Clinton is so coveting my box."
1:44 p.m. The problem with this show seems to be fundamental. The concept of trying to watch somebody cook while three or four other people stand around and talk over the person cooking makes it really hard to pay attention to anything. It's like one of those joke-y late-night-talk-show cooking segments, except it isn't funny and it lasts an entire hour.
1:54 p.m. Aaaand, here's Mario at the golf course making pizza. Who is the poor PA that had to deal with hauling a huge pizza oven out to a New Jersey golf course because Mario had some charity event scheduled?
1:58 p.m. Host power structure now firmly established: Mario is the alpha, everyone else is the beta. And now he's giving everyone in the audience… (cold?) pizza. Not quite a car or a trip to Australia.