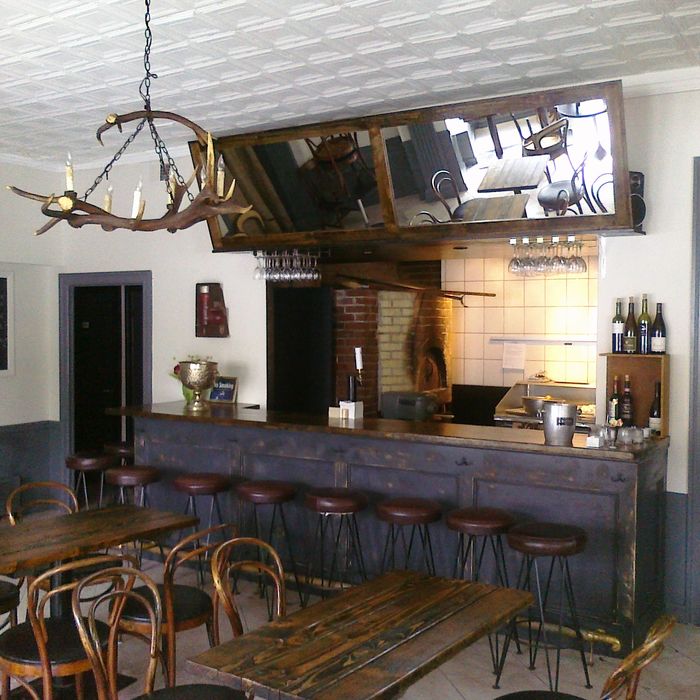 No horsing around here, just an antler chandelier.
Photo: Courtesy Le Paddock
Do we sense a horse-themed restaurant boomlet? On the heels of "equestrian-chic" Saxon & Parole's opening, proprietors Gregory Tetaud and Sylvie Bertrand say the name of their new Le Paddock, which opened Tuesday in Windsor Terrace, is a nod to the horsey history of the area — specifically, the nearby, still-standing Kensington Stables. Tetaud, who is French, and Bertrand, originally from Montreal, have designed a bistro-style menu that puts the restaurant's brick oven front and center. The 40-seat restaurant serves pizzas, lamb burgers, and an Alsatian flammekueche, made with leeks, bacon, and Gruyère. Small plates run from $4 to 6, the chicken-liver mousse is made in house, and the cheeses are from (who else?) Anne Saxelby. Radeberger is on tap, Brasserie de St-Sylvestre Gavroche is in bottles, and there's also a wine list put together by Bertrand, a former wine buyer. Check out the full menu below and know that in a few weeks, Bertrands says, the restaurant will do one-dollar oysters for one night each week.
SMALL BITES
Marinated Olives 4
Homemade Hummus and Flatbread 5
Deviled Eggs with grated radish 4
Chicken Croquettas with herb-lemon aioli 6
Pissaladiere: pizzetta with caramelized onions, black olives and anchovies 5
Tartine du jour: fresh tuna with tomato vinaigrette

CHARCUTERIES
3 for 12 or 5 for 18

Chicken liver mouse
Pork rillette
Saucisson sec
French country ham
Chorizo

FROMAGES (from Saxelby Cheesemongers)
Pipe Dream Buche Ash
Square Cheese
Noble Road
Spring Brook Tarentaise
Bayley Hazen Blue

SOUPS, SALADS & APPETIZERS
Soupe a l'ognion gratinee 6
Tomato Soup with puff pastry 6
Salade tricolore: shredded carrots with a cumin/lemon dressing, beet tartar with
shallots and grapefruit, leeks vinaigrette 8
Salade de Chevre Chaud: mesclun salad with goat cheese roasted tomato toasts 8
Baby spinach salad with chorizo, potato and poached egg 8
Fried cornmeal-crusted calamari with harissa aioli 7.50
Crevettes flambees au pastis 7
Spicy lamb meatballs in tagine sauce with mint yogurt 8
Escargots with garlic-butter potatoes 7

PIZZA
Margherita: tomato sauce, fresh mozzarella and basil 9
Flammenkuech: leeks, gruyere, bacon 12
Basque: tomato sauce, chorizo, peppers, onions, mozzarella 13
Forrestiere: wild mushrooms, fromage blanc, pancetta and truffle oil 14
Quatres Fromages: tomato sauce, Goat, Parmesan, Blue, and Mozzarella 10

MAIN COURSES
Chicken cooked under a brick with wild mushrooms and yukon gold potaotes 15
Wood fire roasted salmon with roasted tomatoes, pesto, and ratatouille 16
Grilled steak with gratin dauphinois and sauteed spinach 19.95
Beef burger with roasted tomato, slab bacon, aioli and fries 12
Lamb burger stuffed with feta cheese, red onion, harissa mayo and fries 14
Moules Frites: mariniere or mouclade sauce, served with fries 10.50

SIDES 5
Fries
Gratin dauphinois
Crushed fingerling potatoes with sweet butter, coarse sea salt and parsley
Greg's ratatouille
Sauteed wild mushrooms with garlic and parsley
Sauteed spinach with garlic
Braised leeks

DESSERTS 7
Mousse au chocolate with salted caramel
Tarte Tatin
Ice creams and sorbets
Le Paddock, 1235 Prospect Ave., at Reeve Pl., Windsor Terrace; 718-435-0921