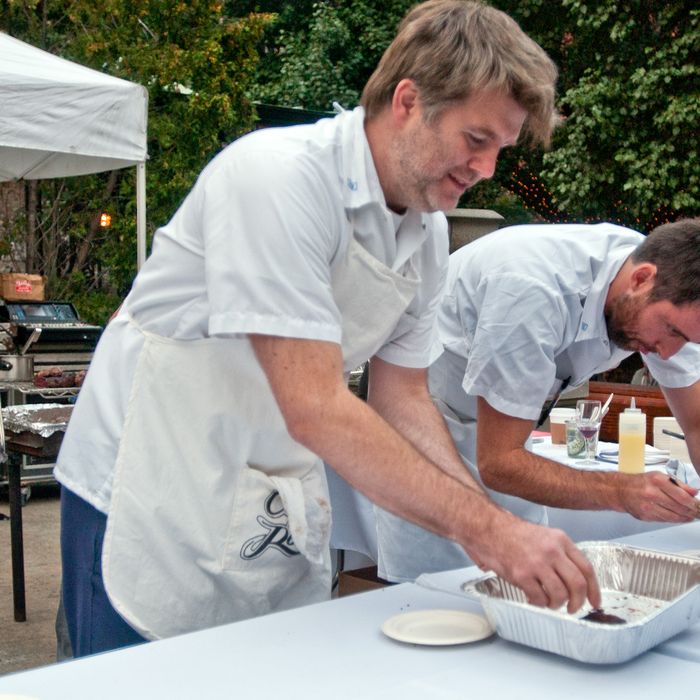 James Murphy of LCD Soundsystem and chef Inaki Aizpitarte of Le Chateuabriand in Paris.
Photo: Copyright,
Food might or might not be the new rock, but the two had nearly equal billing at Saturday night's Le Grand Fooding Campfire Session. James Murphy himself (of LCD Soundsystem fame) prepped a beef and chive salad with his bare hands while across the way, in the statue-dotted Elizabeth Street Garden, wd~50's Wylie Dufresne was serving ribs with a pair of familiar-looking gentleman, who turned out to be none other than past Grub Street Diet subjects Andrew Andrew. "They've been big supporters of the restaurant," Dufresne said, by way of explaining his collaboration with the artists. Andrew Andrew in turn expressed interest in further joint ventures: "We want to get Wylie in the [D.J.] booth — or he could just be our personal chef."
The longest lines were not for the specialty cocktail bar, where mixologists Sasha Petraske and Richie Boccato served Jameson whiskey drinks, but rather for Dante Fried Chicken. You might recall Dante Gonzales from his Ride or Fry project last spring; on Saturday, his Sock-It-To-Fried Chicken and Warning: Tastes Like Chicken tofu made a triumphant New York return.
At the D.J. booth, artists spun records in memory of DJ Mehdi, who passed away in Paris last week. And in between sets, performers including Sondre Lerche played on a stage near a blazing barrel campfire, where the young and fashionable sat on the grass listening amid the wood smoke aromas and silhouettes of stone sphinxes.