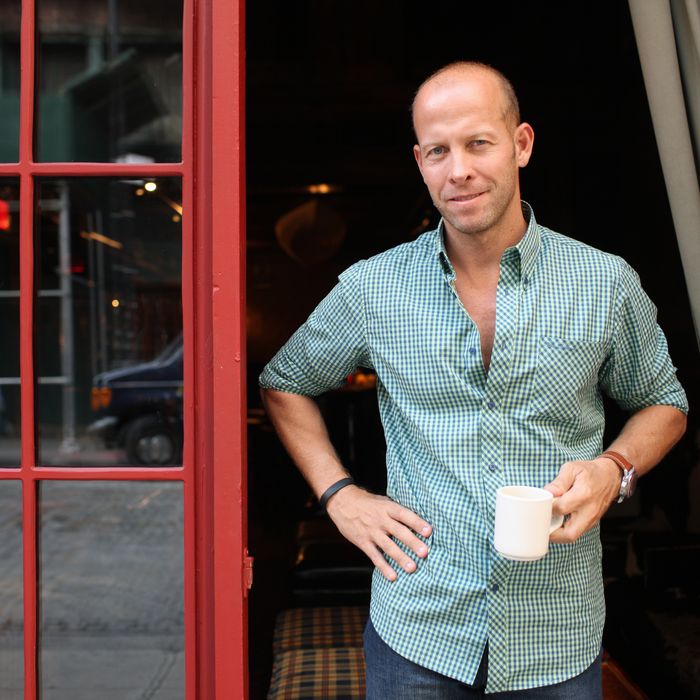 McDonald, with green tea at MercBar.
Photo: Melissa Hom
Like many New Yorkers, John McDonald — owner of Lure Fishbar, B&B; Winepub, Chinatown Brasserie, and MercBar — has been having a strange week. "Because of the hurricane, I was kind of limited in not being able to go where I'd normally go, not being able to walk into my own venues," he says. "It was a weird, almost Christmas Day–like eeriness." Of course, even when his restaurants are closed, he's still got his other businesses — City Magazine, Tasting Table, and Eboost among them — to keep him busy. Not to mention Chinatown Brasserie's cameo on last week's episode of Curb Your Enthusiasm: "It was so funny. Classic, the guy wanting to take the food home with him." To read about how McDonald braved the hurricane — and killed some time during a rare day off — check out this week's New York Diet.
Friday, August 26
The whole city was pretty consumed with the hurricane news that morning, and the general discussion about whether or not to still go to the beach. I stayed put. Breakfast started with coffee — Nespresso, black — and a special shake concoction I make in a blender with strawberries, blueberries, banana, brown-rice protein, and organic dried greens. That's pretty much a daily routine unless I am on the road.
About 30 minutes later, I had my second part of breakfast in the lobby of the Mercer hotel, where I met my father for a quick second coffee, two poached eggs, and an English muffin.
Later I grabbed a slice of French toast from family meal at Lure as I walked into the kitchen to check in for the day and see what was on the book.
Around 2 p.m., just as the main lunch push was settling down, I had a quick sashimi combo. Soon after I took my daily Eboost. That day was pink lemonade in unsweetened iced tea. A boosted Arnold Palmer.
After a few hours of constant calls about whether or not we'd keep any of the restaurants open, I had dinner at B&B; with my friends Desiree and Kyle. We tested out a new prime rib dinner for four that we will start doing in the fall. We began with tomato salad with ricotta, a roasted-beet agnolotti, and then the prime rib, rare. Finished with a spiked vanilla shake. And we drank three bottles of wine. Finished up and, walking out, ran into some people going into Lure for a drink. So one more glass of Burgundy.
Saturday, August 27
Woke up to the regular program of Nespresso and my morning shake, plus an orange Eboost. Because of the MTA shutdown, we had to close Lure, Chinatown, and B&B; — there was no way to get the staff home. MercBar was the only one open. It made my day quite strange.
Equinox was open all day, so off to the gym to kill some time, followed by lunch in the lobby of the Mercer. Shared with my girlfriend: eggs Benedict, French toast with roasted peaches, and an omelette with spinach and goat cheese. And regular coffee.
Spent the rest of the afternoon lingering around the neighborhood and listening to everyone speculate about how extreme the hurricane would actually be when it arrived. Around four, I had an açai-pom Eboost.
Dinner at a friend's house for spaghetti and meatballs, arugula salad, and a bottle of Rubicon Cab. Drove home with practically no traffic. The rain was not coming down hard quite yet, so stopped at MercBar for a quick margarita, and to see the staff and locals who were tired of being indoors.
Sunday, August 28
Coffee. Shake. Given that nearly every restaurant in New York was closed, I headed over to the Standard Grill with a little group. They were packed with locals and hotel guests clamoring for food.
There was a limited menu due to a lack of deliveries, so I went basic: started with steak tartare, then had bacon-cheeseburger and fries. Drank three Bloody Marys.
Need a change of venue after that, so off to Gemma at the Bowery, which was also mobbed. Four of us took down two bottles of rosé at the bar.
Dinner was at home. Pasta with simple olive oil, garlic, and Parmesan. And a salad.
Monday, August 29
Woke up early to get a jump on the Monday mess post-hurricane. A quick coffee and shake, stopped in the Mercer lobby for a second espresso with steamed milk.
Decided to keep it light for lunch that day. Opted for a clean sashimi plate: four arctic char, four yellowtail, and four bigeye tuna. I ran into Peter Kane from Stanton Social and Beauty & Essex, who was eating at the bar. We talked about how much sales tax the city missed by losing restaurant business on Saturday and Sunday, a nasty way to end August.
Around four, a Super Berry Eboost shot and a vegan protein bar by 22 Days, this amazing vegan, organic brand that really tastes great.
I stopped by Chinatown Brasserie to see a friend that was having a big family dim sum dinner. Then, back to Mercer Street to see what type of Monday action we had at the restaurants. Things had started to get back to normal but were still limping from Irene.
I grabbed some oysters standing up at the raw bar of Lure and then a chicken taco at B&B; with a Porkslap beer.
Tuesday, August 30
Started the morning at home with green tea, an occasional change from coffee, and a Boku shake with berries.
After the first wave of general office items, I had to walk with Josh Pickard, my restaurant partner, to check out a possible space for a new restaurant, then stopped into La Colombe for a cappuccino. I find it hard to walk past that place without stopping.
Around 2 p.m., a friend of mine called to say he was passing by Faicco's on Bleecker, and he asked if I wanted a roast-beef sandwich. Their roast beef is one of my favorite in the city, so, yes.
Later I sampled a new menu the chefs were tweaking at B&B;, a pork chop with glazed pears. I only had a few slices.
For dinner, I was supposed to meet some friends at Miss Lily's — I was craving their jerk chicken — but I ended up staying late at Lure, so instead I just had chef grill up plain salmon with an heirloom-tomato salad on the side.
Wednesday, August 31
I had an 8:30 a.m. meeting with a designer who is working on some new display packaging for Eboost, so I skipped the usual home coffee/shake combo and instead went directly to the Mercer lobby for the breakfast meeting. Had espresso with steamed milk and two eggs over-easy. And given the nature of the meeting, I had an orange boost.
For lunch, I went our new Tasting Table Kitchen & Dining Room to meet with Geoff, the CEO, and Brendan, the chef, to test out some dishes for an upcoming Fashion Week dinner. We ate hiramasa crudo with pickled melon and a touch of chile, followed by agnolotti, sweet peas, and crispy pig skin.
Afterwards I walked by the Dutch to see a friend having a late lunch, and since I was on Sullivan Street, I grabbed a green juice at Organic Avenue.
I was at Lure around 4 p.m., which happens to be staff-meal time, so I grabbed half of a grilled-cheese sandwich and a Japanese green tea.
For dinner, I met with my friend Jim Heckler at Wolfgang's. Steak for three, slab bacon, tomato and onion salad. No wine, and no dessert. I'm not a dessert guy. I'd rather eat like an extra two ounces of lamb, veal, steak. I'm too much of a carnivore.