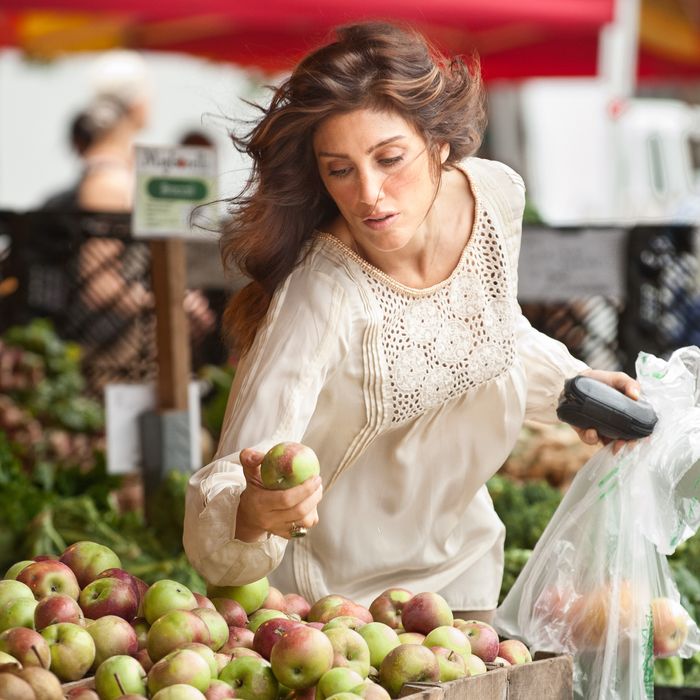 Esposito checks out the offerings at the Greenmarket.
Photo: Luke Townsend
You probably recognize Jennifer Esposito from her roles in films like Crash and Summer of Sam, or from TV shows such as Spin City and Blue Bloods, which began its second season last week on CBS. What you might not know about Esposito is that she was diagnosed with celiac disease just two years ago: "I started to have some anxiety attacks and severe panic attacks, extreme pain in my body and joints, extreme exhaustion," she tells us. "By the time I was diagnosed, I literally couldn't stand sometimes." But she says since the diagnoses, things have turned around for her, and next month she'll launch her Jennifer's Way project, with the aim of educating the public about the disease. "My goal in life now is to really make people aware that gluten is really not good for anybody — it really is an enormous problem." For a taste of that education — not to mention tales of bad wine at the Radiohead show and baking 85 scones for a TV appearance — read on in this week's New York Diet.
Friday, September 23
That morning I had buckwheat hot cereal with blueberries and bananas, and a chocolate muffin. I have my own line of foods, so I make stuff myself and keep it around all the time so I can have stuff to pick on. I made a chocolate-banana muffin, which is gluten-free, dairy-free, sugar-free, everything-free. It's delicious.
On set, I had a salad with tuna — fresh tuna — borlotti beans, string beans, and all this great stuff in there.
That night I had this chicken that I absolutely love. There are very few places I really trust to eat, and there's this place called Goat Town on the Lower East Side. They make a fantastic chicken in a pot that is clean and they know what gluten is and they really do it great. And their chocolate sorbet is dairy-free and gluten-free. I had that and it was so amazing.
Saturday, September 24
I make these shakes, so I had a shake, which consisted of OJ, a banana, blueberries, a vitamin D liquid that I take, vitamin C powder, and an all-in-one multi-powder that's in there.
A little after that I had two eggs with tomato and one of my gluten-free English muffins at work. I eat a lot of eggs because on set, it's the cleanest thing I can have. I usually get them hard-boiled and they're a good source of protein. I also had a decaf coffee with almond milk.
Then there was an early-dinner/late-lunch type thing at a restaurant by my house, Lucky Strike. They have some things on the menu that are gluten-free, which is nice. I had organic, farm-raised steak with French fries and steamed spinach, which was good. Potatoes are fine, thank God, but they have to do them in a special, different fryer for people with celiac disease. If they did them in the same fryer that they used for, say, fried calamari, there'd be cross-contamination. That's just for people who are really, seriously sensitive. And I had a glass of red wine. I love wine and thank goodness, because I really can't drink any other alcohol.
Sunday, September 25
I had brown-rice cereal with banana and blueberries, and a gluten-free English muffin with turkey and tomato.
Oh, I had about five scones that day. I made blueberry-walnut scones — I use sweet potato. I was going on Dr. Oz later that week, so I kept trying out my recipe just to make sure everything was great, so I made them that night and ate about five of them. I made the scones every day to make sure they'd be perfect, so you're gonna hear "scones" here from now on.
Another thing I like to do is just make sweet potatoes. I boil them up and I put some cinnamon and a little bit of maple syrup in there and I eat those. That was Sunday.
Monday, September 26
I had a shake with rice milk and something called UltraInflamX that's really good for people who have a lot of inflammation. And I had a handful of blueberries, my Vitamin D liquids, and two of my healthy scones.
I had three hard-boiled eggs that day because I was on set and it was the cleanest thing I can get.
For dinner, I had a salad with chickpeas, olives, carrots, lettuce, cucumbers, tomatoes, olive oil, and peppers that I made when I got home.
Tuesday, September 27
I had another brown-rice cereal with bananas and blueberries for breakfast.
And lunch was another big salad. This was on set again, so they got me a salad with olives, lettuce, carrots, cucumbers, and tomatoes.
For dinner, I made a lentil soup with some gluten-free pasta shells that I have: brown-rice pasta shells with spinach and carrots. It's a big stew that I like to make. I've always cooked, but I'd say ten years ago it really got serious for me, and now I really, like, cook — I love big dinner parties. It started when I was in L.A. I was just so bored. Like, What do I do here? I was never really comfortable there and I really started cooking as a way to be creative.
Wednesday, September 28
This day was a bit of an off day, because I had to make 85 scones for the Dr. Oz show — so my eating was a little poor. I made and packaged all of the scones for the show myself, so I probably ate about twelve of them. They are vegan and dairy-free, all good for you, but I had about twelve of them.
I did manage to sneak some protein in there with a hard-boiled egg.
Later I was at the Greenmarket and they had these beautiful heirloom tomatoes. I cut one up and put some fresh basil, salt, pepper, and olive oil on it, and had it on one of my gluten-free English muffins.
I skipped dinner because I went to go see Radiohead at Roseland, and that was awesome. My friend got a drink, and I was like Maybe I'll have a vodka soda or something. But they didn't have potato vodka, so I opted for really, really bad wine. It gave me a headache. But oh my God, the show was so good.