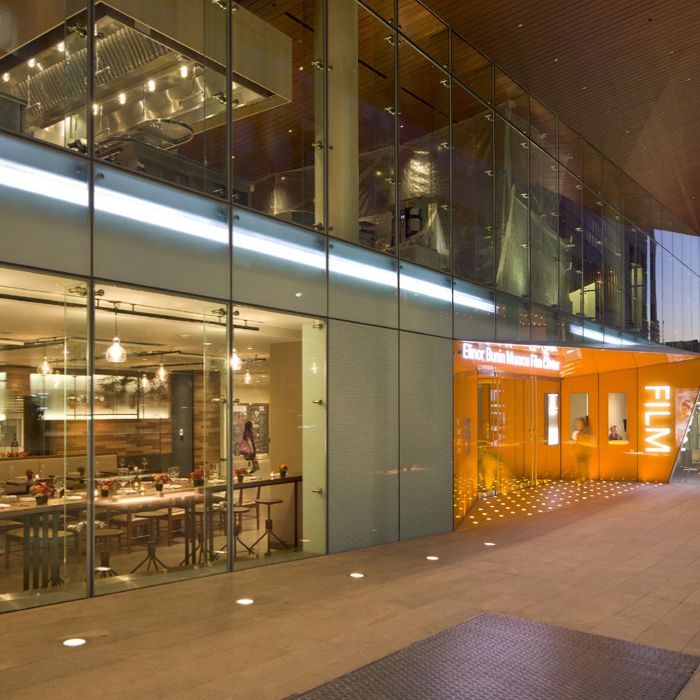 You could call it a marquee location.
Photo: Rockwell Group/©Albert Vecerka Esto
There was a time when cinephiles were content with Milk Duds and questionably buttered popcorn. But then the IFC Center recruited culinary power couple Gerry Hayden and Claudia Fleming to (briefly) run its adjacent café. Symphony Space installed a wine bar. And earlier this summer, Nitehawk Cinemas debuted in Williamsburg with Saul Bolton's quirky snacks on offer not only in the lounge and at the concession stand, but also in the screening rooms themselves. Next week, in perhaps the biggest advance in movie-theater dining, Lincoln Center's new Elinor Bunin Munroe Film Center unveils its own 45-seat café, Indie Food & Wine, which will be operated by panini pioneer and expansion-minded restaurateur Jason Denton of 'ino, 'inoteca, Corsino, and Betto.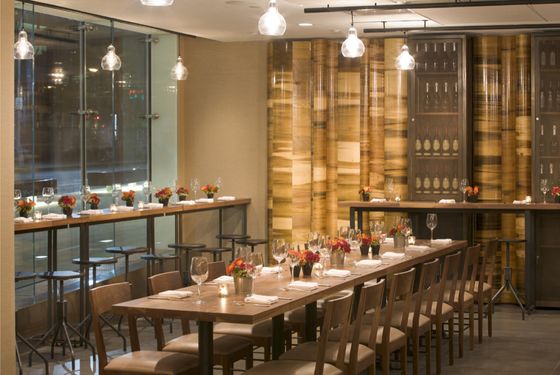 For Denton, the gig represents his first foothold on the Upper West Side, with untold catering potential for the refurbished cultural institution. For moviegoers, and the neighborhood in general, it means there's now a nifty new spot open from 8 a.m. to 10 p.m. for breakfast and cafeteria-style lunch and dinner. Less overtly Italian than Denton's other menus, Indie's will be executed by chef Rebecca Weitzman, who also runs the kitchen at Park Slope's Thistle Hill Tavern. Here, she'll work with an array of building-block proteins like house-smoked trout and roasted leg of lamb, either bolstered with poached eggs at breakfast, tucked into sophisticated sandwiches, or served as $14 entrées, with a side or a half-portion of salad, plus a choice of sauces, aïolis, or mustards. David Rockwell's design incorporates industrial and salvaged materials, including curved plywood panels meant to evoke film unspooling from a reel.
This doesn't mean, of course, that the simple cineast pleasures like popcorn have been entirely abandoned — just re-conceived in flavors like Parmesan-black truffle and salted caramel, both for sale at the concession stand alongside the house-baked pretzels and Junior Mints. Here's a preview of the menu and a first look inside the coming attraction.
Breakfast Menu [PDF]
Concessions Menu [PDF]
Cafe Menu [PDF]
Indie Food & Wine, 144 W. 65th St., nr. Broadway