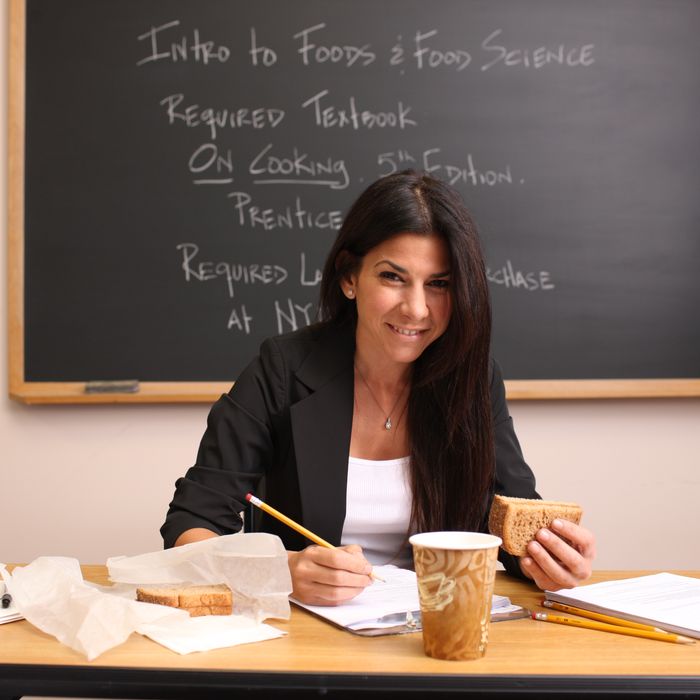 Castro, grading papers, sandwich in hand.
Photo: Melissa Hom
For most people, heading back to work or school this time of year means less time to think about the important things in life — like, you know, amazing food. But for Lourdes Castro, professor at NYU's Nutrition, Food Studies and Public Health Department (and the author of several cookbooks), heading back just means more time to think about it. In fact, she says keeping track of everything she ate this week wasn't even all that different from what she typically does. "Being in the position that I'm at here at the university, we often give this assignment to students," she tells us. "Because I tend to give the assignment, when I'm given an assignment, I take it seriously … So I was really, really, really honest about it." Between brunching at Odeon, grazing on just about everything at Peasant, eating secret dinners for Food Network with Jonathan Waxman, and digging into the fried chicken at Seersucker, we don't see any reason to lie. Check it all out for yourself in this week's New York Diet.
Friday, September 9
I always brew my own coffee at home, so I had two cups. I just use Bustelo, the yellow bricks, I guess. I put that in a drip coffee maker and I use it as if it were regular American coffee. Several years back I was much more into running, so I got into the habit of drinking almond milk because it's easier when you're out running. I don't know, I felt lighter about it. And I just never gave that habit up. I'll drink regular milk with coffee when I'm out at Starbucks or whatever, but at home, that's just the way I am. So I had two cups of coffee with that vanilla almond milk and a bowl of Wheaties and a banana.
My sister lives in Tribeca and I was around there, so I stopped in to say hello. It was around lunchtime and she's got four kids under the age of 7, so she tends to have Goldfish and that kind of food at the house. So I had a handful of the Pepperidge Farm Goldfish kind of thing, and then I made a turkey sandwich, like a little kid — you know, couple slices of turkey and cheese on bread kind of sandwich and sparkling water. She and I ate that.
When I left I stopped at Sarabeth's — they just opened one up in Tribeca — and I got an Arnold Palmer and treated myself with a cloud cookie.
That evening, my boyfriend and I went to dinner at Peasant in Nolita. The owners are friends of ours, and it's actually through them that my boyfriend and I met, so it's one of our favorite restaurants, really. We sat at the bar and ordered a whole bunch of stuff. We started with a glass of Prosecco and they have their great bread and ricotta to start, so we kinda ate through that. We had the cannolichi — the razor clams — to start, and the panzanella salad. And then we had a mid-course, if you will. We ordered a pizza, the pepperoncini and soppressata pizza. And my main was their spaghetti with langoustines and then we had a bottle of wine with all of that.
For dessert, my boyfriend ordered the … oh, geez. What's it called? It wiggles. Panna cotta! And I stole some bites. It's really the best panna cotta.
Saturday, September 10
I woke up early, around seven, and I had one cup of coffee at home, the same Bustelo with almond milk that I normally do. And then I went for a run. I came back and I have this grape Gatorade. I dilute it so it's half-water, half-Gatorade.
My boyfriend and I are moving next month, so we're furniture shopping. So we had this plan starting downtown, down in Tribeca, walking our way up looking at furniture shops until we got to about Union Square. So we started with brunch at the Odeon. I had a mimosa and then I had an egg-white omelette with mushrooms and onions. I'll just give you the aside about the whole egg-white omelette thing: I love egg yolks and I eat them all the time, I just don't like them cooked. Yuck. I like runny yolks.
We ended at ABC and I had an Arnold Palmer at a Starbucks outside. As you can tell, it's my drink of choice. I don't know if Arnold Palmer really invented it, but if he did, I'm very happy about that.
After that we went home and we caught the Federer-Djokovic match in the U.S. Open. I grabbed some pretzels and some grapes while we watched that.
So then came dinner, and it was really an interesting thing because I was invited to a dinner that was being filmed for Food Network. I had to sign something when I walked in. To be perfectly honest, I didn't read it, so I don't know what I can or can't say. This is what I think I can tell you: I can tell you who cooked it, I think — I'm pretty sure I can tell you who cooked it. Four chefs — yeah, I'm sure I can tell you. It was Bobby Flay, Michael Symon, Alex Guarnaschelli, and Anne Burrell. It was a pretty cool event. I sat with Jonathan Waxman, Liz Symon, and Bruce Bromberg. And of course they had servers and they just kept topping off your wine, so it was never-ending glass of Pinot Grigio in front of me.
Sunday, September 11
I had two cups of coffee, same coffee with almond milk, a banana and, like, a handful of dry Wheaties. Then I went out for my run again. And then Sunday was NFL, so I came back from my run and I just basically made snacks to eat while my boyfriend and I were watching the games: I'm obsessed with these Kettle baked potato chips. They're baked, but they taste fried. They're really, really good. And some walnuts, some hummus, some olives.
We were invited to go to the Mets game that evening, which was pretty cool. We went with two friends of ours, Alina and Amador — they're both chefs in the city. I was starving by the time I got there, and they have El Verano Taqueria at Citi Field. I got the combo pack, which was a skirt-steak taco, a pulled-pork taco, and a chicken taco. They were delicious, really. And I had a side of the Mexican street corn and a beer. I ate it all before the whole opening ceremony even began.
A couple innings in, Amador said he was gonna go to Shake Shack if anybody wanted anything. So he came back with more stuff. My boyfriend had got a double burger, so I had a couple of bites of that, and Amador brought me back an order of fries and another beer.
Monday, September 12
Monday was back to school. Technically NYU began the week prior, but I didn't teach last week. I do teach on Tuesdays and Wednesdays, so Monday was really an organization day. I woke up and I had again my two cups of coffee with the Bustelo and almond milk and I just had a banana.
For lunch, I made myself a lentil soup — I made it in a big quantity — I boiled some lentils and quinoa together. I ended up making a salad with it because I let it come to room temperature, chilled it, and threw vegetables in there. It sounds really healthy and I guess it is, but what's really good is it makes for great leftovers. I can just keep it in the fridge all week.
I'd bought a rack of baby-back ribs at Los Paisanos on Smith Street. They have really amazing meat. About three o'clock I put a coffee rub on the ribs — a rub that I have in one of my books. It gives it an earthiness and then some spiciness, too. There's hot paprika and cayenne in there. So I put them in the oven at 3 p.m. for about three hours. As you might know, Monday is Monday Night Football, and as you might guess, given that I'm from Miami, I'm a huge Dolphins fan. So I had the ribs with the coffee rub and I made this vinegar slaw and some corn, and we set that up in front of the TV. We had Pacifico beer with that, which is the beer I always have at home — it's my favorite.
I was in London about two weeks ago and there's a Pierre Hermé there, and I bought a couple boxes of their chocolate. So I sulked about the Dolphins losing with some of the Pierre Hermé chocolate.
Tuesday, September 13
I got up around 7 a.m. and had one cup of coffee at home before heading to the university. When I teach in the morning, I bring my breakfast with me. So my breakfast was a peanut butter sandwich. Pretty simple, but it's easy 'cause, you know, it's affordable, it doesn't go bad, and it's pretty filling.
For lunch, I had brought some of that lentil-quinoa-vegetable salad that I had made.
Around 3:30 p.m. I met a former student of mine at the Starbucks in my building. I was running five minutes late, so I asked if he'd order me an Arnold Palmer and something sweet. I told him to just surprise me. So when I got there he had the Arnold Palmer and he was nice enough to — well, he picked the pumpkin loaf … I was kinda hoping for a cookie or something.
I got home around seven, and I had some chicken breast from Paisanos, too. My intent earlier on in the week was to marinate it, Cuban-style, but I was kinda tired so I just ended up searing it plain. I had this leftover chimichurri sauce that I had made last week in the fridge so I figured I'd just do chimichurri with the chicken. I just threw in the oven some Yukon gold potatoes and some shallots. It was comfort food, potatoes and chicken and chimichurri. And we — whenever I say "we," I mean me and my boyfriend — had a bottle of wine with that.
And because I'm kind of regimented, I had another couple of chocolates to finish off my night.
Wednesday, September 14
It was sort of the same thing as the day before. Seven a.m. wake-up; coffee at home; the peanut butter thing at the university.
I ran home for a bit because I was leaving the next day for Miami and wanted to make sure things were organized. I had an orange, and some Bibb lettuce with pumpkin seeds. Everything was great until I had four Oreo cookies on my way out the door. They were calling to me and they were pretty loud, I have to say.
For dinner, my boyfriend and I went with a couple of his friends to Seersucker. I bet you can already guess what I had: the fried chicken! Oh my God! It's like Southern, really great, amazing fried chicken. But it wasn't as spicy as I remember it being when they only did it on Tuesday nights. I also started with a ricotta flan, and we all shared the pickled vegetable plate. So I had all of that, and we got a bottle of Albariño. We tend to drink wine most nights. For dessert, we all shared the brownie à la mode. More chocolate!