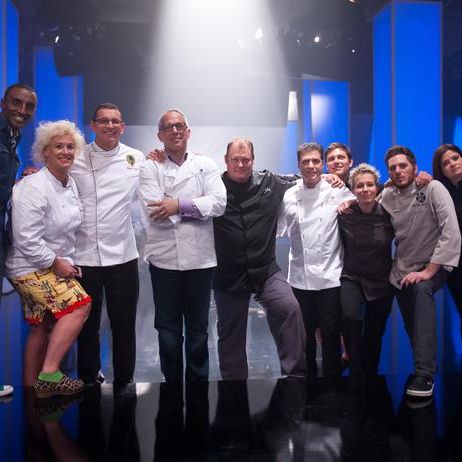 This year's 'Next Iron Chef' contestants.
Photo: Courtesy of Food Network
It's hardly a secret that the words "Top Chef" have been dirty around the offices of Food Network. But now, the food-only channel plans to challenge its rival head-on when it debuts the newest season of Next Iron Chef, which premieres October 30 at 9 p.m. In fact, you may have even noticed the pointed tagline that Food Network is using in its Next Iron Chef promotional campaign: "The only title that matters."
As a promotional event for the show, host Alton Brown told us that Top Chef Masters is "a good show," but adds that there's less at stake than on Next Iron Chef: "Talk to chefs around the country and they'll tell you which [title] they'd rather have."
It's interesting, then, that among the new contestants vying for the title of Next Iron Chef is Top Chef Masters Season 2 winner Marcus Samuelsson. He's joined by a handful of Food TV hosts and well-known "super chefs" like Geoffrey Zakarian, Alex Guarnaschelli, Anne Burrell, Beau MacMillan, Top Chef–er Spike Mendelsohn, and yet another Masters competitor, Michael Chiarello.
So what is it about the show that makes otherwise accomplished, already-famous chefs risk humiliation at the hands of the Chairman? Beyond the title, "the payoff is huge," noted Guarnaschelli: "Lifetime job security" (through regular appearances on Iron Chef America). Zakarian added that he agreed to sign up "because I was asked," but ended up finding the experience "very difficult — they really try to trick you."
The season, of course, has already been taped, but good luck trying to figure out who actually won. Should we read into the fact that the first photo op featured Brown, last season's winner Mark Forgione, Zakarian, and Guarnaschelli, all clustered together in a faux–Kitchen Stadium erected on Ninth Avenue as part of the New York Wine and Food Festival? "No," Brown insisted. "The winner may not even be here today."