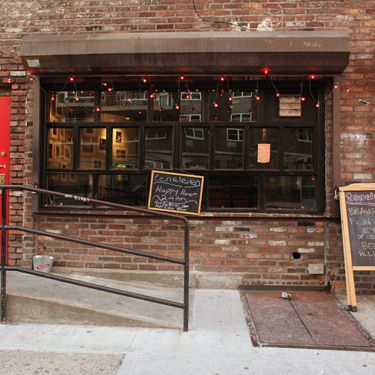 The site of the alleged hooping.
Photo: Kathryn Yu
After briefly shutting down while awaiting a liquor license renewal, Teneleven on Avenue C is back in business. But some of the bar's neighbors are probably not pleased with that news.
At least two residents who live above the bar — which recently hosted its once-a-month "Debauchery in Double D" burlesque show in an adjoining room — have complained to Community Board 3 about noise and the use of the bar as a performance venue. At the July 18 CB3 meeting, Andrew Adam Newman claimed the bar's regular burlesque show included performers "juggling lit Hula-Hoops," which Teneleven co-owner Evelyn McCue says is a lie. She tells Grub, "Our space is tiny. We couldn't have hula hoops in here. They're enormous. And we don't use fire." The committee voted to deny the bar a renewal of its liquor license, and the full board followed suit on July 26, but McCue nevertheless applied for and received her renewed license from the SLA, which has the final say.
Newman says he and a neighbor are "only trying to get Evelyn to keep her word, to stick to the stipulations that Evelyn herself originally proposed to the CB 3, namely that it would not be a venue for live shows … but instead just a low-key neighborhood bar." McCue acknowledges that she hasn't followed all of the stipulations imposed by the CB3, which include weekend security, and a ban on live D.J.'s and promoted events. An SLA spokesman told us the agency had reviewed the complaints of residents and the CB 3 resolution but found "no outstanding charges."