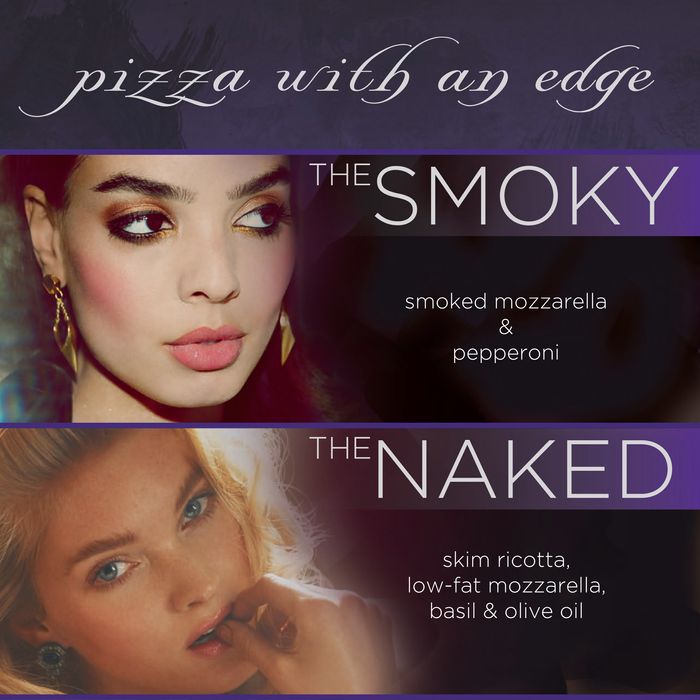 Urban Decay is more than red lipstick, it's red sauce too.
To be a sophisticated New Yorker these days, ya gotta know fashion and food. Deal with it. Here are a few fun options for tasting a little of both during Fashion Week.

When you order a Quartino Bellini at Asellina during Fashion Week, they'll bring you a quartino of Prosecco and three fresh juices so you can mix your own bellini (or two) at the table ($15).
Head over to Fig & Olive's meatpacking location and receive a complimentary board of Mediterranean hors d'oeuvre with your cocktail, a perfect snack to boost your energy before you head out for the night; daily during Fashion Week, from 5 to 7 p.m.
Enjoy a "Corsino Cooler," Corsino's signature cocktail, for a refreshing pick-me-up after a day of shows.
The Empire Hotel brings back "Don't Feed the Models" to their cocktail menu for Fashion Week this year, as well as new drink additions such as "Avant-garde-tini" and "Couture on the Catwalk," available through September at the lobby bar ($15). The Empire's Fashion Week Ambassadors will sport a custom dress by Moises de la Renta (of Oscar).
Boulud Sud, A Voce, and Telepan are among 23 Lincoln Square–area restaurants participating in Fashion Plate Prix Fixe during Fashion Week. The restaurants will offer a three-course lunch or dinner (approximately $29 for lunch, $35 dinner), some with optional drink pairing, through September 15.
Also returning for Fashion Week this year is Lincoln Square Crew Cuts, which will offer discounts from 6 to 15 percent at places including 'wichcraft, Breadsoul Café, and many others. Featuring quick and easy (and now more affordable) takeout options, these restaurants are perfect if you're constantly on the move this week.
Model and activist Elettra Wiedmann takes on-the-go Fashion Week dining to a new level with Goodness, her pop-up restaurant in Ed's Chowder House. The restaurant will offer healthy and locally sourced food (for the most part — fried chicken and desserts on the "Badness" side of the menu). Chefs like Nicholas Wilber of Fat Radish will design daily specials. Open Sunday through Wednesday during Fashion Week, from 7 a.m. to 3 p.m.
Try POM cocktails like the Pret-a-POMtini and POM Couture, created for Fashion Week by Dale DeGroff and mixologists from Prohibition. They'll be served during the designer shows at Lincoln Center, and at after parties for Rebecca Minkoff (Rose Bar) and BCBG Max Azria (1 Oak).
Friday, September 9, Duo Restaurant & Lounge (72 Madison Avenue) will debut their weekly Supper Fridays, beginning with dinner at 8 p.m., followed by performances and live music. In honor of Fashion Week, this Friday will feature a fashion show by designer Leonid Gurevich and music by D.J.'s Max K and Ivan Melnik. Reservations are required.
Spice Market will serve the Fashionista this week, a limited-edition Fashion Week cocktail made with lychee raspberry puree and elderflower syrup ($12).
If you're in town for Fashion Week and staying at the Mondrian Soho, Royalton, Morgans Hotel, or the Hudson Hotel (or even if you're not), be sure to sample their fashion-inspired specialty cocktails: Winter White, Pencil Skirt, or Little Black Dress ($10).
Urban Decay and Eddie's Pizza Truck are pairing up for Fashion Week to bring Eddie's thin-crust slices to Lincoln Center. The truck will be parked near Lincoln Center from Saturday, September 10, through Monday, serving pizza and daily specials (renamed "the Naked," "the Smokey," etc. by Urban Decay) to Fashion Week ticket holders. Preorder before you leave the show through Urban Delivery and skip the lines. Open 11 a.m. to 3 p.m.; follow UrbanDecay411 on Twitter for location updates.