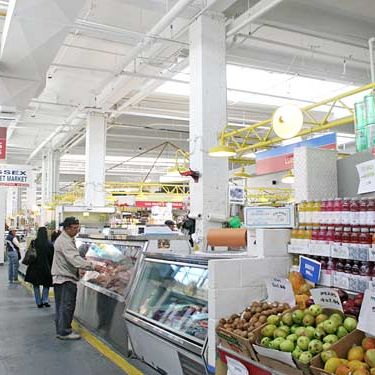 An infusion of artisanal beef and the freshest gauc' can't hurt.
Photo: Shanna Ravindra
A bit of inspiring news for the iffy Essex Street Market: Diner's Journal confirms that Patrick Martins's well-respected, turkey-famous, Roberta's-endorsed Heritage Foods USA will open there tomorrow, where the 70-year-old Jeffrey's Meat Market once existed. Dan Honig will manage the "cuts of smoked and fresh heirloom pork, grass-fed beef, poultry … cured meats from several domestic producers, including salamis made by Armandino Batali in Seattle, different kinds of hams and some special sopressatas from Salumeria Rosi." For a less fleshy experience, Jesse Kramer and Erica Molina have officially opened Brooklyn Taco, Mexican pickups with mucho fresh ingredients and all-the-rage Blue Bottle Coffee, too.
Heritage Meat Comes to the Essex Street Market, With Brooklyn Taco [Diner's Journal/NYT]
Heritage Meat Shop, Essex Street Market, 120 Essex St., nr. Delancey St.; 212-539-1111.
Brooklyn Taco, Essex Street Market, 120 Essex St., nr. Delancey St.
Related: A Loading Dock With Lattes