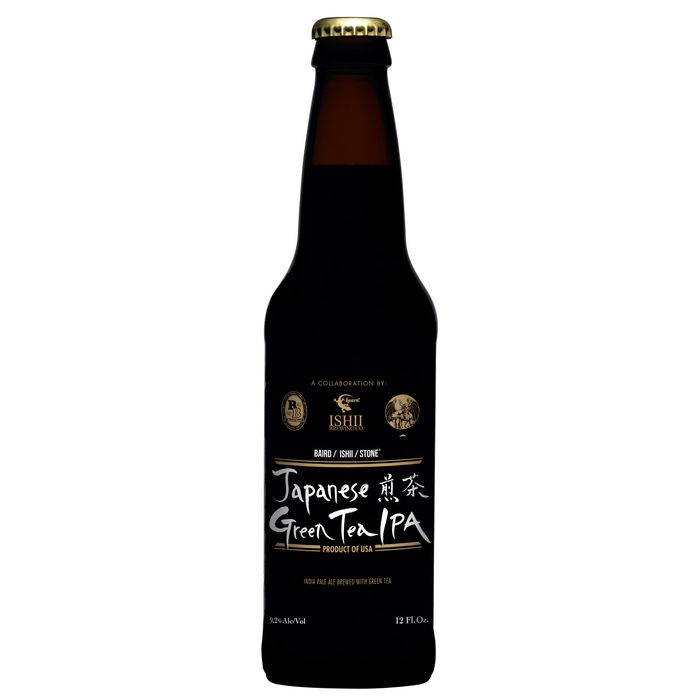 This beer is made with green tea, and love.
Photo: Courtesy Baird Brewery
While it's all well and good that Dogfish Head and Google recently collaborated on a special, limited-edition beer named for an ancient supercontinent, there's a whole, big-banged microbrew-niverse expanding rapidly out there. As if to demonstrate that point, next week a whole auditorium full of interesting brews is coming to the Japan Society. These include a few that have never been available in the U.S., and another making its world debut.
Next Wednesday's event will feature at least 24 beers from ten breweries. Pours will be three to four ounces. Highlights include two selections from the Brussels-based "super boutique" brewery Owa, whose brewmaster is Japanese but makes Belgian ales: Its two-year barrel-aged Yuzu Lambic (ABV: 5.2%) and namesake Owa beer (ABV: 5.5 percent) have never been served in the U.S. Meanwhile, the Japan-based company Baird has teamed up with Stone and Ishii Breweries to produce a Green Tea IPA (ABV: 9.2 percent), a dry-hopped ale mixed with green tea.
All proceeds from the sale of this beer are going to Japanese Red Cross Society. Baird will also "world premiere" its Otomi Orchard Mountain Plum (ABV: 5.5 percent), a "dry and tart" ale brewed with Japanese mountain plums, unmalted Japanese wheat, and sudakito sugar, made in collaboration with the Canadian brewery Dieu Du Ciel. There will also be a healthy selection from the Kiuchi Brewery, which sustained major damage during the earthquake in March, so go drink some shochu barrel-aged Hitachino Nest XH (ABV: 7 percent) to support these guys.
Tickets are $25 for non-members; $20 for students, seniors, and Japan Society members. Rice crackers and edamame will be served.
Japan's Beer Revolution: The Birth, Death, and Resurrection of Japanese Craft Brewing [Japan Society]
Earlier: Read Tom Colicchio's Foreword to The Oxford Companion to Beer