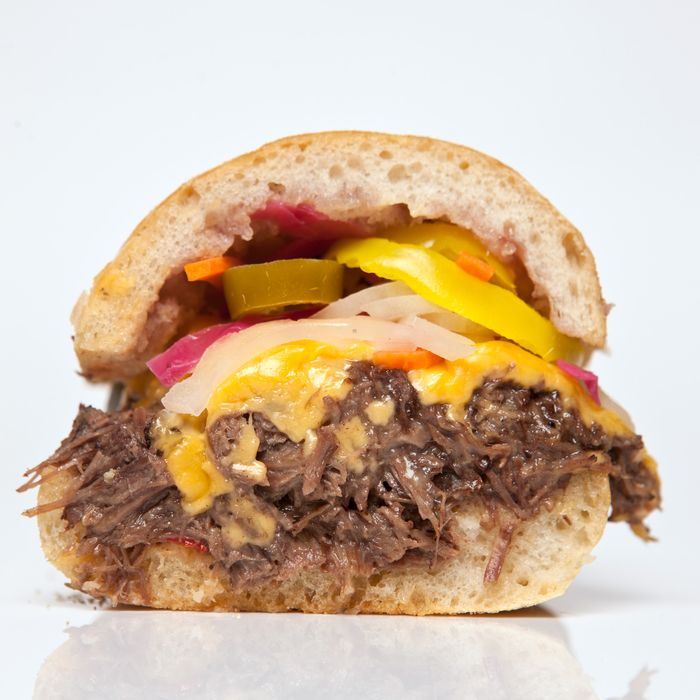 The Byggybeef sandwich.
Photo: Danny Kim
This week's magazine has a bit of a coup. We've got all the details on the new short-rib sandwich you see pictured above. What's that you say? Not again! Not another sandwich! Cancel my subscription effective immediately. To which we reply: Now wait a minute. If you'd just give us a chance to explain … why are you making groaning noises like a wounded seal? … we would tell you that this is no ordinary sandwich. This, you see, is a Dewey Dufresne original, scheduled to make its debut Thursday at the Feast of San Gennaro on Mulberry Street.
The San Gennaro gig is a trial run for Dufresne's fast-casual project BYGGYZ, which he hopes to have up and running by early next year. For those who don't know (we did not), Dewey Dufresne was the man on the Providence, Rhode Island, restaurant scene in the seventies. How big was he? Well, you might say that he was something like an Alice Waters, a Kenny Shopsin, and a Katz's deli all rolled into one. In fact, some claim that before Dufresne opened his first ground-breaking shop, Joe's, many Rhode Islanders did not know what a sandwich was. Others (actually, it was Dewey himself) used to say that he put the sand in sandwich. Also: A man can be judged by the condiments he keeps. This, we're sure you'll now agree, is sandwich shtick of the highest order. If it whets the appetite for more, read the following bonus Q&A; with Dewey.
What's up with the name BIGGYZ? Why not plain old DEWEYZ?
I've always liked the name Biggie's, but there's a Biggie's clam bar in Hoboken, so I thought, What if I changed the spelling? My logo designer was against it, because he said people would not know how to pronounce it. But I said, "Remember Häagen-Dazs?"

What will be on the menu when you open your shop next year?
Seven to eight sandwiches with five to six special combos, plus two to three seasonal sandwiches. And there will be ice-cream sandwiches and a self-serve beverage dispenser with traditional and custom flavors, including a barbecue soda that Wylie came up with.

Why are sandwiches so popular these days?
I think it's a direct result of the recession of 2008. A lot of mid-priced restaurants went out of business, but places like Chipotle have become unbelievable successes. Why? Because people can get something dependable, they're involved in the process, the sourcing is good, and it fits economically.

What was your favorite sandwich as a boy?
My two favorites were the ones my French-Canadian grandmothers would make for me. My Mémère Alda grew her own tomatoes, and she'd make me tomato sandwiches with mayonnaise on white bread. It's a great sandwich, but only make-able in the summer when tomatoes are in season. And my Mémère Aurore would grind pork butt and cook it with fat, basically a paté, and serve it on white with iceberg lettuce. These formed my sandwich future and my sandwich fixation.

Did Wylie have a favorite sandwich at your shop?
He had a sandwich named after him; it was called the Wylie. No, that's not right. It was called the Sluggo. (When he was born, I wanted to call him Sluggo Dufresne, but his mother prevailed.) It was warm, thinly sliced turkey breast with celery salt and melted mild Muenster cheese on white bread or a kaiser roll. It was one of only a few things he would eat.

You mean to say that young Wylie Dufresne was a picky eater?
He hated everything. He ate eggs, grilled cheese, macaroni and cheese, the Sluggo, and that's about it.
Related: Deconstructing Dewey Dufresne [NYM]