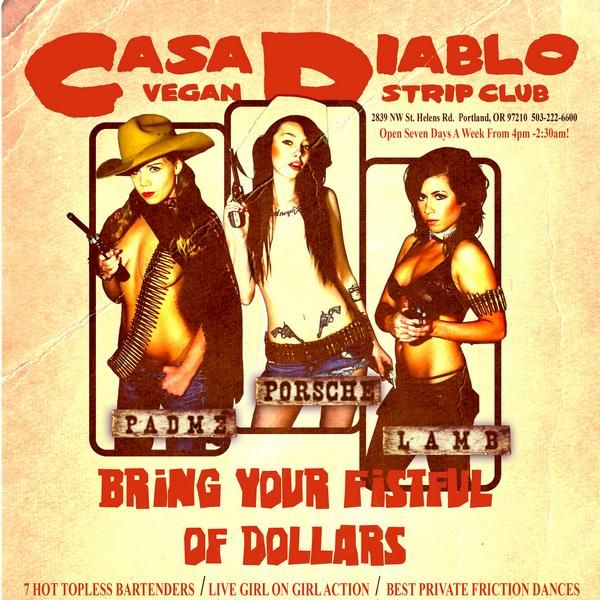 G-Strings? Yes. Smothered pork chops? No.
Photo: Courtesy Caso Diablo
This week, the Guardian brings us the story of what purports to be the first-ever vegan strip club, located (of course) in Portland, Oregon. Casa Diablo, which opened in 2008, charges $35 for lap dances and the servers sling meatless sloppy joes. The topless lady making your screwdriver might steer you toward the mushroom burger with soy cheese, then direct your attention to a sign above the bar that reads, "Please do not wear fur, feathers, silk, wool or leather on the stage. Thank you - the animals." Yes, friends, it seems we're hurtling ever faster to an unprecedented golden age of vegivore porn.
You'll recall that news of the vegan strip club comes in the aftermath of PETA's recent announcement that they're developing a combo smut-and-animal-welfare porn website. Elsewhere, there's the adorable Pinups for Pitbulls, a nonprofit partially guided by the vegan cupcake chef Doron Petersan.
Of course, while it may seem that everything has been leading up to this bright and shiny new meatless moment, upon close inspection, this new, literal food porn is not really limited to plant eaters. Carnivores can enjoy the charity-minded Nudie Foodies, which is more eye-singeing than NSFW. There, lamb racks cover other racks, and hot dogs are positioned in front of, well, you get the picture.
And as a mild last resort, there's that suggestive, reclining bird accompanying today's Times piece about chicken skin.
The world's first vegan strip club [Guardian UK]
Earlier: PETA's Porny Plans