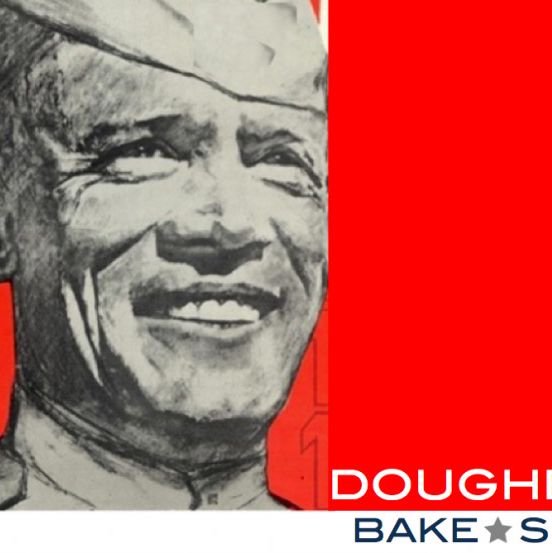 God bless America.
Photo: Courtesy of Doughboy
Back in June, we told you about Chocolate Bar owner Alison Nelson's plans to open a bakery around the block from her West Village Bar location. And, as we told you, the place is to be called Doughboy, in honor of the Doughboy statue in nearby Abington square Park. Adding to the place's historical cred: The space is decked out with reclaimed wood, Legionnaire flags, artillery boxes, and cast-iron army men. (What's with all the military-themed places these days?) But what about the food? Expect cookies, pies, muffins, and cupcakes, including a cupcake we're told will have an entire Oreo baked into it. Our boys in Europe would have been so proud if they'd known what they were fighting for! Check out the full list of offerings, straight ahead.
COMMISSARY
Cookies ($2.75)
Old-fashioned Chocolate Chip, Oatmeal White Chocolate, Molasses Ginger, Snickerdoodle, Pumpkin Chocolate Chip

Pie ($4.50)
Blueberry, Apple, Pecan, Pumpkin, Cherry

Muffins ($3)
Blueberry, Corn, Apple

Slices ($3)
Banana Chocolate Chip Loaf, Peanut Butter Pound Cake, Crumb Cake, Daily Pie ($4.50), Daily Cake ($4.75)

Brownies ($3.50)
Fudge, Walnut

Cupcakes ($4)
Chocolate Peanut Butter, Red Velvet, Chocolate with Vanilla Buttercream, Chocolate with Chocolate Buttercream, Vanilla with Chocolate Buttercream, Special Cupcake of the day

BAKE SALE
Signature items include Peanut Butter Pound Cake, Classic Crumb, Cinnamon Apple Muffins, Cookies & Cream Cupcakes (equipped with a whole Oreo baked right inside), Blueberry Pie, Cherry Pie, Apple Pie, Pumpkin Pie, aw heck, save room for pie. Get them by the slice or order one to be picked up for you next social occassion.
Doughboy, 535 Hudson St., nr. Charles St.; 212-206-8135
Earlier: Chocolate Bar Owner Will Open a Bakery Around the Corner