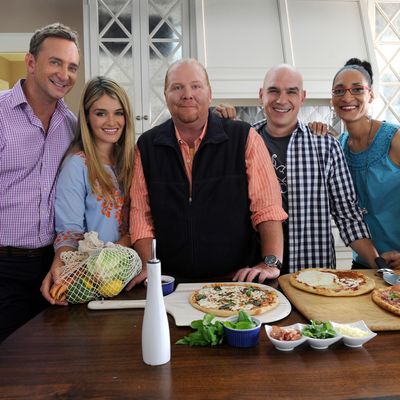 At least Mario showed up for the photo shoot.
Photo: Ida Mae Astute/ABC
We can't say we were surprised to find ourselves somewhat underwhelmed during yesterday's premiere of The Chew, but we weren't the only ones who felt that way: The Daily News takes umbrage with the "overstuffed" show's too-fast pace, which "makes it hard to start relating to the panel." EW has the exact same complaint, and feels "overwhelmed by the pace of content." But these are both New York–based publications. Mario Batali himself told us yesterday that he expected to get ripped by the New York press: "[I]t is more about Peoria than Manhattan," he told us. Okay then. What do people in the middle of the country think?
The Chicago Sun-Times really digs in, and not in a good way: They don't like the "standard dump-and-stir cooking demos," find the food-news bits "mundane," and call the show "patronizing, like when [Michael] Symon explained that a sommelier is 'a big fancy wine person' … 'The Chew' acts as if America has never seen a food show, when the reality is that TV is more crowded than Grant Achatz' inbox when it comes to culinary content."
'The Chew' review: ABC's new daytime food talk show tough to swallow [NYDN]
'The Chew' series premiere: It made me hungry, but will it make you watch [PopWatch/EW]
Food-driven chat fest 'The Chew' is patronizing, offers nothing new [Sun-Times]
Earlier: Live-Blogging the Chew Premiere