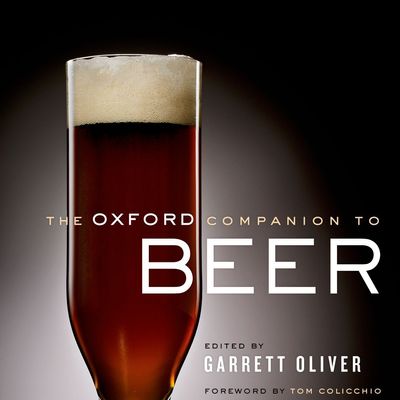 The book could also function as a four-pound coaster in a pinch.
Photo: Courtesy Oxford University Press
Garrett Oliver is not only the Brooklyn Brewery Brewmaster, he's also spent the better part of the last four years compiling — with help from 116 contributors in 24 countries — the truly massive, 960-page Oxford Companion to Beer. The nearly thousand-page tome is as comprehensive as you'd expect (ever wonder about the finer points of prehistoric yeast?), and Tom Colicchio even pens a love letter to suds at the book's start, calling the new book absolutely indispensable, while noting how much beer culture has grown over the past few years, writing, "for much of my fermented-beverage-drinking life, we were living in the dark ages of beer." He calls Oliver his "beer guide and teacher" while recounting his personal history of drinking. "Thinking back to my teens and twenties," the chef bashfully recalls, "I saw beer as little more than a means for getting drunk." Ah, but how times change.
Colicchio & Sons, he notes, has 28 taps, because the world is now filled with great beer. Demand for the Companion has already exceeded supply, and the book has sold out its initial print run. The "dark ages of beer" seem to be over.
Foreword [PDF]
Foreword reprinted from The Oxford Companion to Beer edited by Garrett Oliver with permission from Oxford University Press, Inc. Copyright © 2012 by Oxford University Press.