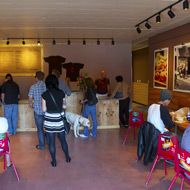 Super-popular SoMa sandwich artisans The Deli Board reintroduced itself Friday in brand new digs at 1058 Folsom Street, between 6th and 7th Streets. They've now got a full assortment of salads to go with their big and meaty sandwiches, and an early report mentioned some upcoming breakfast sandwiches and burritos too, as well as bagels flown in special from New York. So gone are the days of the catering kitchen, and now you don't even have to call ahead. (We got our sandwich in about six minutes, but we arrived on the later side, after the lunch rush.)
See our slideshow below, including the sandwich we ordered: the Fatty Matty.
The Deli Board - 1058 Folsom Street - 415.552.7687 - Open 10 a.m. to 4 p.m., Monday through Saturday.