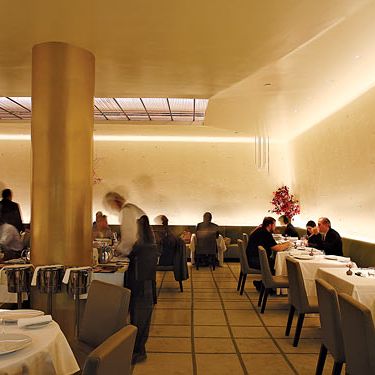 The dining room of Corton, where Montrachet once was.
Photo: Noah Sheldon
I only visited Windows on the World once, and like a lot of people, I don't remember very much about the food. What I remember is the quiet grandeur of the room, and the sense as I gawked at the city spread out like a giant carpet at my feet, that this was the kind of spectacle that a great restaurant in New York City was designed for. Since the collapse of the World Trade Center a decade ago, this sense of grandeur and spectacle has more or less vanished from the city's restaurant scene, replaced by a less showy, more elemental style of dining. The trend was underway before 9/11, of course — influential "New American" farm-to-table restaurants were already opening around the city, and Tom Colicchio was pushing his ingredient-driven cuisine at a new restaurant called Craft — but after 9/11, I think it's safe to say that people stopped building gilded dining rooms on the tops of skyscrapers, more or less forever.
Master showmen like Windows' Joe Baum were replaced by populist chefs and restaurateurs such as Colicchio, David Chang, and Mario Batali. Dining rooms around town became smaller, more accessible, more relentlessly casual, and the grand old French establishments that had defined culinary tastes for generations of New Yorkers began folding their tents one by one.
One of Windows on the World's surrounding neighborhoods, Tribeca, has been a microcosm for many of these seismic changes. In fact, after spending most of the decade since 9/11 devoid of any new, successful restaurants, the area has experienced a resurgence in the last few years — but that resurgence has required established chefs to either recalibrate their thinking or vacate the area altogether.
David Bouley, the great downtown tastemaker of the eighties and nineties, has moved his flagship establishment to a smaller, less showy space; replaced his failed, boom-era Austrian restaurant Danube with two different concepts (the doomed brasserie Secession and the new Japanese omakase restaurant Brushstroke); and even designed his own haute cheeseburger. David Waltuck closed the great continental restaurant Chanterelle after 30 years in business. And although Nobu and Megu still prosper as international brands, Jean Georges tried twice to bring upscale Asian cooking to the neighborhood (at 66 and Matsugen) before finding success further uptown with his own relentlessly casual, locavore-themed establishment ABC Kitchen. Finally, this spring Danny Meyer opened a Shake Shack outlet in the shadow of the new Freedom Tower, not far from the spot where swells used to dine on oysters roasted with cream and vermouth at the Hudson River Club.
The neighborhood's latest superstar chef isn't Bouley, or even Paul Liebrandt, whose icy, polished gem of a restaurant, Corton, is Tribeca's closest thing these days to an old-fashioned, haute cuisine culinary destination. It's arguably Marc Forgione, who last year was named a TV Iron Chef by the Food Network. (Incidentally, he won the title by beating Marco Canora, whose own modestly priced Terroir Tribeca is the wine bar of choice among my trendy downtown friends.) Forgione's eponymous and Michelin-starred restaurant on Reade specializes in new age comfort dishes like "BLT Ravioli," suckling pig, and a "Fudge Brownie" dessert garnished with Nutella and cacao marshmallows.
If you had to pick one restaurant downtown that embodies the stripped-down, post–Windows on the World decade, however, it would be Locanda Verde. After their haute Italian concept bombed on the corner of North Moore and Greenwich Streets, Robert DeNiro and his partners redesigned the room — with a hand from the Spotted Pig's Ken Friedman — to look like a casual Italian taverna. They lowered the prices and brought in Andrew Carmellini, who'd begun the decade cooking ambitious haute cuisine recipes for Daniel Boulud. You can get a nourishing breakfast in the mornings, and fine retro comfort dishes like lamb meatball sliders and Carmellini's "Grandmother's ravioli" for dinner. There is no dress code, but if you sit in one of the sidewalk tables on a warm September evening, you might catch a glimpse of the stars popping out over the Hudson. It's not a Joe Baum extravaganza, exactly. But in this slightly dimmer, less spectacular restaurant era, it will do.
Related: Windows on the World [New York Magazine]