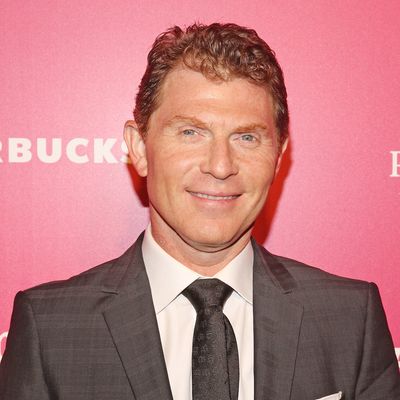 Not pictured: Flay's wife.
Photo: Rob Kim/WireImage
We have mixed feelings about Bobby Flay's sorta-strange cameos on this past season of Entourage, but we've always thought that the strangest part was the fact that he was playing a single version of himself. After all, he's famously married to Stephanie March — wouldn't the Mrs. be a little miffed that she was being pushed out of the fictional picture? Well, no, as it turns out. Flay told Grub Street at last night's US Weekly party (which was full of Food Network talent) that it was no big deal. "It was a good coincidence because my wife, Stephanie, and Perry Reeves, who plays Mrs. Ari, are friends," he says. "And they just thought it was hysterical." He added that, since his wife is an actress, she was totally cool with it: "I absolutely had to get permission, but permission was granted, and we had such a fun time watching it." Okay, then. Mystery solved!
Related: Bobby Flay Isn't an L.A. Chef, But He Plays One on TV