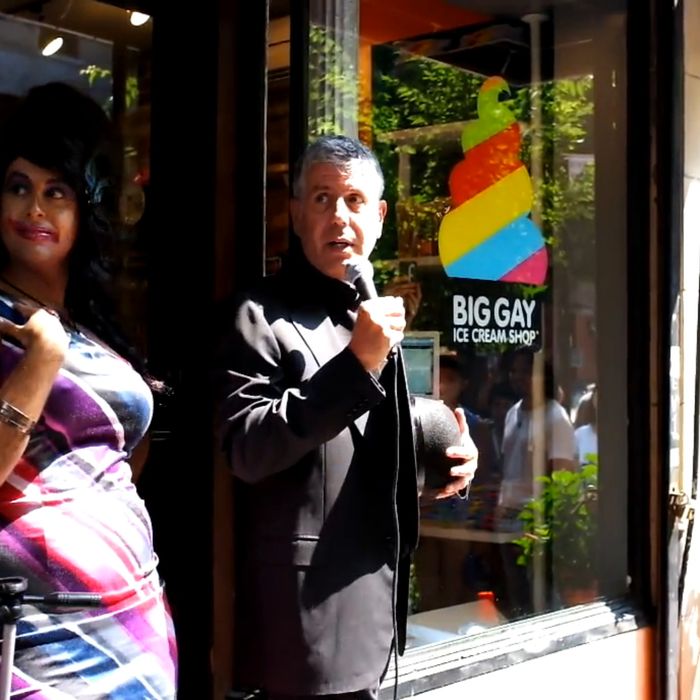 Photo: Kathleen McGivney/http://vimeo.com/28576442
As you'd expect, Big Gay Ice Cream Shop opened with a splash on Saturday. The guest of honor at the opening ceremony was none other than "Father Anthony," namely, one Tony Bourdain, who emerged wearing … drum roll … a priest's vestments, and proceeded to bestow upon the shop his (profane) version of a blessing. "We are all God's creatures," intoned Bourdain. "Who among us has not yearned for the curious embrace of a Salty Pimp or seriously considered burying their face in a Bea Arthur? … May you go forward and make a shitload of money … Sell a lot of motherfuckin' ice cream!" Based on Big Gay's tweets this weekend, the benediction seems to have helped.
Big Gay Ice Cream Shop opening ceremony and benediction from Kathleen McGivney on Vimeo.
We're open. For real [Big Gay Ice Cream]
Earlier: Rainbows and Unicorns, Oh My: First Look at Big Gay Ice Cream Shop
The Ten Most Insulting Things Anthony Bourdain Has Said About Food Network