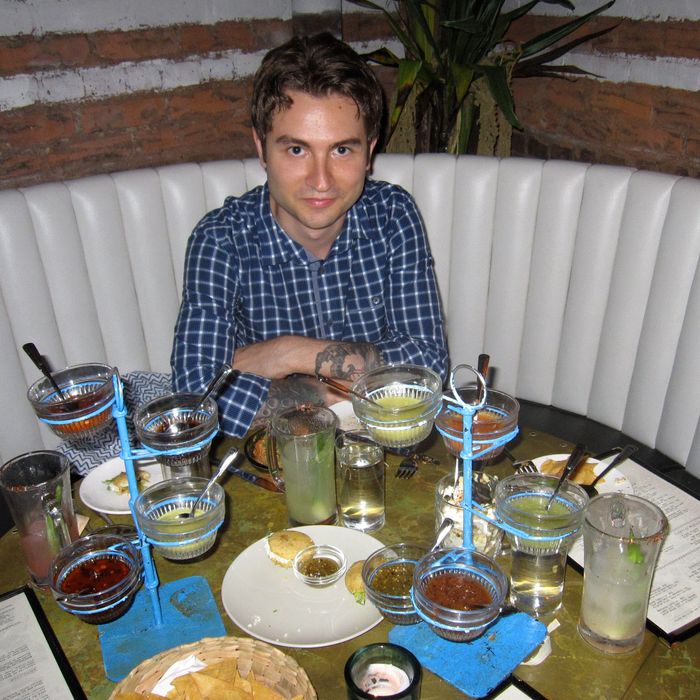 Stupak, and the spread at Pulqueria.
Photo: Jenny Miller
Empellón chef and co-owner Alex Stupak doesn't know why Mexican food in New York has trouble breaking away from its tacos and margaritas image, but he's pretty sure he can do better. "It's the East Coast in general — certain things aren't as embedded yet," he ventures. Of course, the former Alinea and wd~50 pastry chef made a seemingly unlikely U-turn not long ago. He left Wylie Dufresne's restaurant to open Empellón in March (Dufresne recently said of Stupak's move, "fine dining lost a star"), and now he has Empellón Cocina planned for November or December. But the move isn't as strange as it might sound: "There was no other restaurant I wanted to be a pastry chef at," he says. "I started cooking Mexican because I needed to add another element to who I am as a person." Plus, his wife and business partner, Lauren Resler, grew up in a Mexican-American family. With all that in mind, we recently enlisted Stupak for a tour of his favorite Mexican spots in New York — Chavella's, Los Hermanos in Bushwick, brand-new Pulqueria, and Hecho en Dumbo — and to talk about how he hopes his new restaurant will break the Mexican mold in New York.
"In Mexican [cooking], sometimes I think the missing ingredient is freshness," Stupak says, recalling his days in Chicago when he could buy masa so fresh that it was still warm. "I think there need to be more businesses that have that very primary focus." At Empellón, Stupak and Resler deal with this issue by running their own "masa program," managed by Resler, also a trained pastry chef. Her tortillas are bread-plate-size, chewy, warm, and slightly browned in spots, an adaptation of Resler's Mexican grandmother's recipe. They are as far removed from cold, supermarket tortillas that to even call the two the same thing feels profane. The restaurant goes through 9,000 of them a week.
Yet Stupak's relationship with masa's main raison d'être, the taco, is interesting. Even though he sells plenty at Empellón, he's tired of them. "Name a Mexican restaurant that doesn't serve tacos," he challenges. "If you look at an Italian restaurant, it doesn't have to serve pizza. But to walk into a Mexican restaurant and not have tacos, that's ludicrous." Aside from their ubiquity, the other problem he's found is the dish's cheap-eats reputation. "If you're serving a taco, it's gotta cost two dollars," Stupak laments. "At Empellón we use Wagyu skirt steak; we use Mangalitsa pigs; we get diver scallops from Maine; the zucchini comes from the Greenmarket … I like to think of tacos as a vehicle for eating an ingredient." Ingredients, we should point out, that don't cost two dollars.
While Stupak would love to someday develop an "evolution" of Empellón — he envisions an eight-seat taqueria with three guys cooking — the upcoming Empellón Cocina sounds as though it will actually go further: "We're not serving tacos at all." He adds, "It's counterintuitive, because tacos and guacamole make up the lion's share of our sales at Empellón, [but] the only way anyone's getting guacamole [at Cocina] is if we're giving it away."
So if he's doing away with tacos and guac, what will he serve? Stupak says Empellón Cocina's menu will be divided into cold appetizers, hot appetizers, and mains; it will be a changing array of six of each; the plan is to also serve a ten-course tasting menu that goes for around $100. As for the food itself, Stupak's working on a recipe for cavatelli made from masa, with a tinga meat sauce; he's talking about making mole out of brown butter. Also in the works: a riff on the Pueblan dish chiles en nogada that swaps in hamachi flavored with meat jus for the traditional picadillo filling, as well as a version of, okay fine, guacamole, but one made from pistachios that are hydrated until they take on the texture of fava beans, mashed, and garnished with caviar.
What emerges, as he describes his plans, is a picture of "Mexican food" that certainly hasn't been done in New York, and probably has no equal anywhere in this country, except perhaps Rick Bayless's Topolobampo in Chicago. The comparison to Bayless, whose work Stupak admires, isn't lost on the New York chef.
Yet Stupak insists his vision isn't so-called "fusion" cuisine. "Why can't you flavor [a salsa] with an herb that isn't within the parameters of Mexican cooking? Other cuisines can step outside of their boundaries. I feel like French cooking can enjoy that luxury and not have it be labeled fusion." In riffing on a mole, or a salsa, or any other typical Mexican dish, Stupak says he's sticking to the traditional techniques and merely changing the ingredients.
Part of the problem could be race: If a Mexican chef were to do these types of things, few customers would probably label the food fusion. But since Stupak is a white guy from Massachusetts, people struggle to see his food as "authentic." He's the first to acknowledge the issue, but adds that food can "still be Mexican at its base, as long as you're handling chilies the right way, as long as you're still frying things in lard."
While Stupak might seem to some an unlikely person to push the boundaries of Mexican cooking in New York, he has an advantage regardless — or perhaps because of — his background: He's not bound to tradition and regional styles of cooking. "If you ask for a non-Oaxacan chile at the market in Oaxaca, they'll tell you it doesn't exist," he tells us. So, "to take mole and put it an alginate capsule — that's what they're doing in Mexico these days. But if you take the technique of mole and switch out the ingredients, it's blasphemous." If Stupak's vision for Empellón Cocina is successful — and his impressive track record gives no indication that it won't be — that won't be the case for much longer.