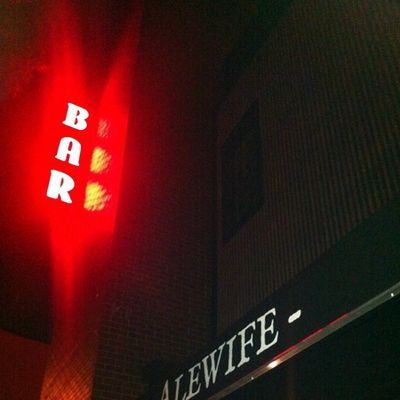 Alewife's LIC exterior.
Photo: Courtesy of Alewife
Summer's nightlife scene was characterized by beer-garden mania, and now comes yet another spot dedicated to the suds: Alewife, slated for the end of the month in Long Island City. "We're going to be New York City's best beer bar," manager Michael Brewley tells us; the fact that the same team runs an Alewife in Baltimore and Lord Hobo in Boston makes this claim less credulous. The 200-person space has two floors and a back patio and, should you wind up lingering over one of the 28 draught pours, or the hard-to-find High & Mighty Beer of the Gods, or De Ranke XX Bitter, there's an ambitious food menu to accompany. Chef Jon McCain ('21' Club) is in the kitchen turning out hops-friendly fare including Macadamia-crusted fluke with Chorizo broth and jalapeno macaroni and cheese with barbecued-pork "croutons." McCain tells us Alewife's owner, Daniel Lannigan, "is well-known in the beer community" and "can get a lot of product that other bars can't get," so we'll see about that "best beer bar in New York" claim.
Alewife, 5-14 51st Ave., nr. 5th St., Long Island City; no phone yet