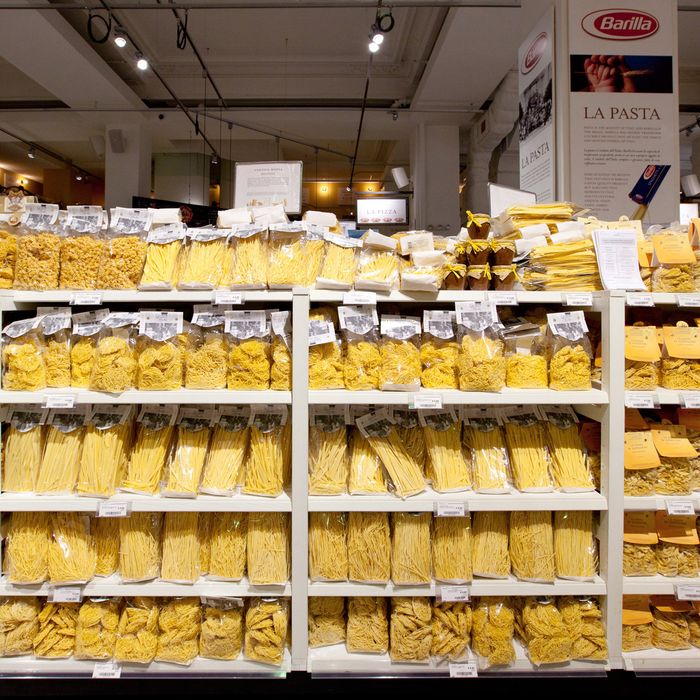 Next up? Pop-ups, pesto competitions, and
The Chew.
Photo: Elliot Black
Adam Saper, the CFO of Eataly, knows whether locals are buzzing about by stalking the dairy sales: "Tourists don't buy milk." His brother, Alex Saper, the GM, loosens his shoulders and laughs every time he's asked if the crazy Italian customers are "hired actors." The brothers Saper need not worry. Judging by the excitement around yesterday's birthday bash, and that lines were out the door pre-Irene, Eataly is booming. Although, there have been some bummers.
"Our little, to-go pizza shop never took off," admits Adam, who blames the quietness of 24th Street and that "people just don't talk about it, or know about it." Another defeat? "Selling whole fish didn't really work out," adds Alex. "In Italy, people want to buy a whole fish; in New York, they just don't go for it. Our customers want it pre-filleted. This city isn't ready for it, or people are just in a rush."
On the flip side, there have been a few shockingly popular items. "We knew our mozzarella and rotisserie would be big, but I had no idea how much people loved anchovies. We've had to restock our anchovies constantly since day one!" Alex adds, "Sardines, too!" Another hot item? Sea Urchin, say the boys.
But what's next for Eataly? "La Birreria stays open all year long," they assure. "There's a retractable roof, sun lamps, and … Mario will warm everyone with hugs, at least in spirit." (Batali couldn't make the party, but Lidia Bastianich was running around with a sharp knife … cutting cake.)
Speaking of Molto, has The Chew filmed at Eataly yet? "They've definitely shot some things here, yes," confirms Adam. And the school they're opening up next door? "It will be an extension to the courses we already offer at Eataly, but with a few pop-up restaurants too," nods Alex.
And the million-dollar question: Where will the next Eataly be? "We'll definitely open in Los Angeles or D.C. before there's another one in New York," says Adam. "The original L.A. location rumor isn't true, but we're actively trying to find something there."
Then the boys were whisked away by a movie-star-like Italian man, and Grub Street had some gelato.
Related: News on The Chew