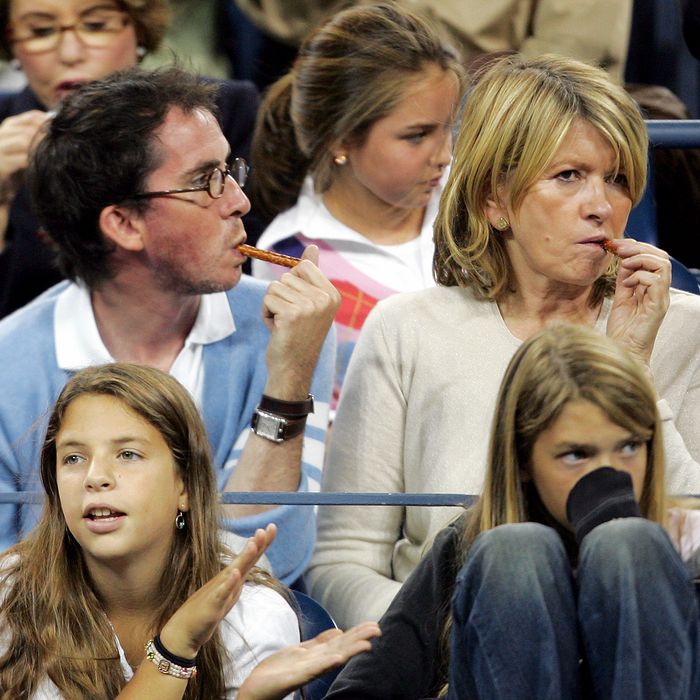 There's better stuff than pretzel rods, Martha!
Photo: Ron Antonelli/NY Daily News Archive via Getty Images
What with Citi Field just across the way serving up Shack Burgers and 'cue from Blue Smoke, plus its prime location next to one of our favorite culinary pilgrimage spots, we've always found it particularly disappointing that the National Tennis Center was so lacking in choice eats. We're not asking for veal hearts on a stick, but would a cumin lamb noodle kiosk kill them?
Accordingly, we weren't expecting much from a media preview we attended yesterday at Aces in Arthur Ashe Stadium. The plan was to try highlights from the new food program for U.S. Open 2011 that will be on offer at the tennis center's food court and six restaurants, and to our surprise and delight, we're pleased to report that there are some tasty improvements this year!
Iron Chef Morimoto's back for the second time with a new menu of serviceable sushi rolls at Aces ($12 to $20); while the Chef mugged for a Japanese TV crew near the bar, we sampled poached lobster tail from a solid plateau de mer ($59 at Aces), as well as a bright seared scallops dish served over corn puree ($29 at Mojito). The tapas-style bites at the Wine Bar also look to be a good bet; we tried a nice basic tomato flatbread and an interesting cocktail made with watermelon puree and Raki ($12). We heard positive things about the lobster macaroni and cheese on offer at the Champions Steakhouse ($16), but it was unfortunately the one dish that ran out before we could get to it. Probably a good sign!
Other fun facts: Thirty-five percent of produce this year is local, coming from places like Red Jacket Orchards and Long Island's Latham Farms; steaks are from Creekstone, and burgers are a special short-rib blend from Pat LaFrieda. There's also champagne at the Open for the first time, thanks to a new sponsorship deal with Moët & Chandon, who will be rolling out something called Moët Ice Imperial, which is evidently designed to be served over ice. While we certainly found it refreshing, we're not sure if it's $22 refreshing, even though it does come with a commemorative take-home cup. Then again, we're not sure we'd want houseguests to know we once drank champagne that was designed to be served over ice.
Related: The Complete Guide to U.S. Open 2011