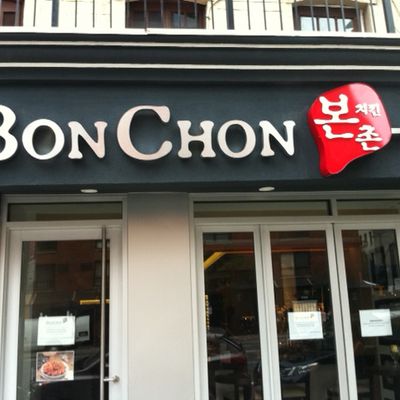 Now open!
Photo: Bennett Marcus
The long-awaited Bon Chon Korean chicken outlet on Second Avenue and 51st Street finally opened on Saturday, and Grub Street stopped in for a look. The soft-opening menu features Korean fried chicken, of course, and also starters and a few entrées, like dubboki, bulgogi, and a Seoul steak bowl. The place will be open daily from 10 a.m. to 1 a.m., serving the Second Avenue late-night crowd, as well as the midtown lunch and happy-hour crowds.
As you'd expect, there is also a full bar, with specialty cocktails, wines by the glass and bottle, and Soju in carafes or bottles. The centerpiece of the bar is a tap with twenty draft beers, which include both craft and major brands, as well as international beers from Germany, Belgium, Korea, Japan, and Mexico.

The restaurant currently seats 60, but owners say outdoor seating will be available in a few months. (Hopefully they don't wait too long — nobody wants to eat fried chicken in the snow.)

Danny Louie, one of the owners, explained why he and his partners opened a Bon Chon branch at this location: "We came upon this brand and we loved it, so we decided to bring this to the masses in Turtle Bay," he said. Louie told us that the restaurant was packed within 30 minutes of Saturday's 7 p.m. opening.
Soft-Opening Menu [PDF]
Cocktails [PDF]
Earlier: Bon Chon Will Bring Korean Fried Chicken to Turtle Bay