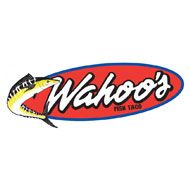 Wahoo!
Photo: Courtesy of Wahoo's
West Coast
With the recent openings of places like Potbelly andThe Earl of Sandwich, it seems as though the city is, like Kanye West, a little chain heavy these days. But at least Wahoo's menu looks expansive, in an odd way: There are fish tacos and burritos aplenty (you know, choose chicken, beef, shrimp, carnitas, or vegetables). The restaurant's three founding brothers are Brazilian and grew in an apartment above their family's Chinese restaurant in São Paulo. Some time after that they moved to Orange County, however, and while their dad opened the famous Chinese restaurant Shanghai Pine Gardens, the kids became surfers.
The chain packages itself as surfer dude-esque and all extreme sports-like, and describes its menu as "eclectic Mexican/Brazilian/Asian menu and a Hawaiian north-shore vibe." Accordingly, "cajun white beans" appear alongside "banzai veggies," a "Kalua pig bowl," "Polynesian shrimp." They also serve nachos.