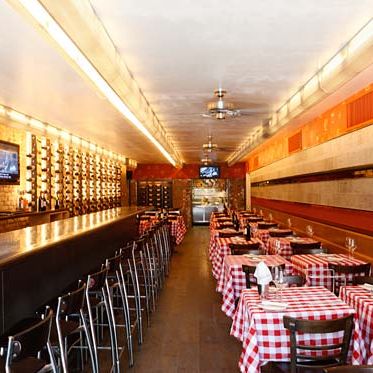 Bye-bye, red checkered tablecloths.
Photo: Hannah Whitaker
It's been a bit of a mystery what's going on with Veloce Pizzeria, which shuttered recently, ostensibly for "renovations," despite our discovering the pie shop would move to midtown. However, now Grub Street learns that the space will reopen next week as an Asian-Latin fusion restaurant dubbed Ugly Kitchen. Co-owner Ron Ancheta is a vet of the Blue Ribbon restaurants, and he tells us the eatery will serve lots of grilled meats, such as Argentinean-style dry-aged steak, a specialty of chef Moul Kim, who is ethnically Korean and was raised in Argentina. Though Pizzeria Veloce had been beer-and-wine-only, Ugly Kitchen will serve Asian and South American–inflected cocktails, including a mango margarita and a cucumber-pear martini. This makes for a lot of action for this stretch of First Avenue, which also has Alex Stupack's Empellon Cocina and the new one from the L'Asso guys opening soon.
Ugly Kitchen, 103 First Ave., nr. 7th St.