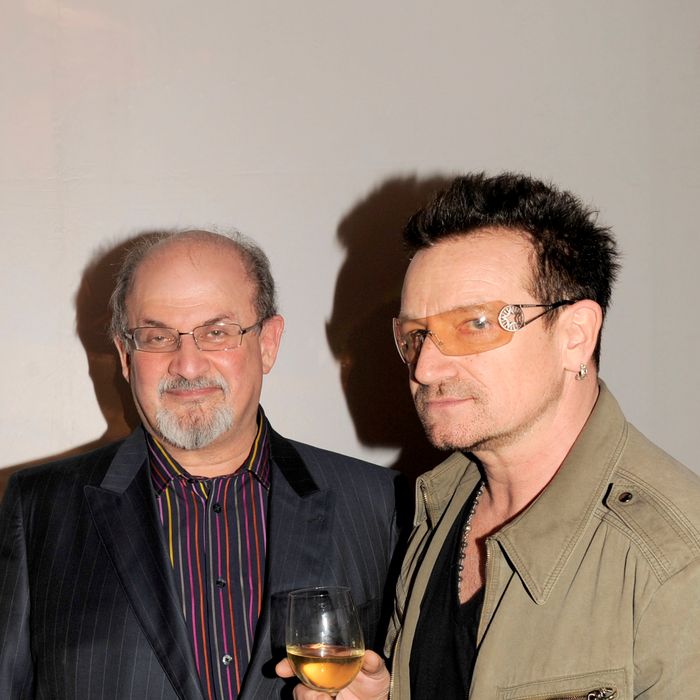 It's nice when you can match your wine to your glasses.
Photo: Patrick McMullan
The Hamptons were unsurprisingly busy this week, with the likes of Paul McCartney, Jennifer Hudson, and Snooki running around and eating. But if you thought the annual August exodus would make snagging a table at your favorite Manhattan restaurant any easier, you were wrong. Blake Lively and Leonardo DiCaprio luxuriated over their breakfast in Chelsea for upwards of 60 minutes; U2 took over a certain popular West Village joint from night until morning; and Alexander Skarsgard claimed one East Village spot as his own, showing up two times in as many days. Lots more sightings straight ahead.

75 Main: Snooki and her friends stopped in for dinner in time to witness Tila Tequila doing it up on the dance floor. [Hamptons.com]
Jennifer Hudson came in the next afternoon for a pre-beach meal. [Hamptons.com]
Ever-popular with the ladies, 75 Main also drew in Michelle Rodriguez, who came with her girlfriends for burgers and a couple of bottles of rosé. [Hamptons.com]
Bar Pitti: Rosie Huntington-Whiteley took in the summer during her alfresco lunch. [StyleBistro]
Cafeteria: Leo and Blake (Bleo?) settled in a corner for an hour-long breakfast, which involved two plates of lemon-ricotta pancakes and a shared order of huevos rancheros. [Page Six/NYP]
Co-Op: Bruno Mars couldn't turn off the charm while dining with model Jessica Caban. After enjoying some steak, cocktails, and a bottle of sake, Mars extended his fork across the table to feed Caban a brownie dessert. [Page Six/NYP]
Gemma: Alexander Skarsgard loved his meal here so much, he returned the next day for another one. [Just Jared]
La Bottega: Kanye West left the throne-watching duties to Jay-Z for the night and met up with model Sian Honeybell, filling her with pizza and "plenty of pinot grigio." [OMG/Yahoo]
La Esquina Taqueria and Cafe: Danielle Deleasa dined with the brothers Jonas, namely Joe and her husband, Kevin. [Gatecrasher/NYDN]
Marea: Emma Stone, fresh off her visit with David Letterman, ate fusilli with octopus with her family. [Grub Street]
Nick & Toni's: Matt and Annette Lauer ate with King of All Media Satellite Radio Howard Stern and his wife, Beth Ostrosky, on the porch. Paul McCartney and Nancy Shevell hit up the back room for dinner later that night. [Hamptons.com]
Osteria Morini: Maroon 5's Adam Levine took out his girlfriend, Victoria's Secret model Anne Vyalitsyna, for a dinner date. [Grub Street]
Primola: Carlos Beltran had a post-Mets, pre-Giants dinner with family and friends. The table went through plates of minestrone, veal chops, and sorbet. [Page Six/NYP]
The Spotted Pig: The U2 boys celebrated the end of their massive world tour by rolling up here at shortly after 3 a.m. and partying until around 8:30 a.m. [Montreal Gazette]