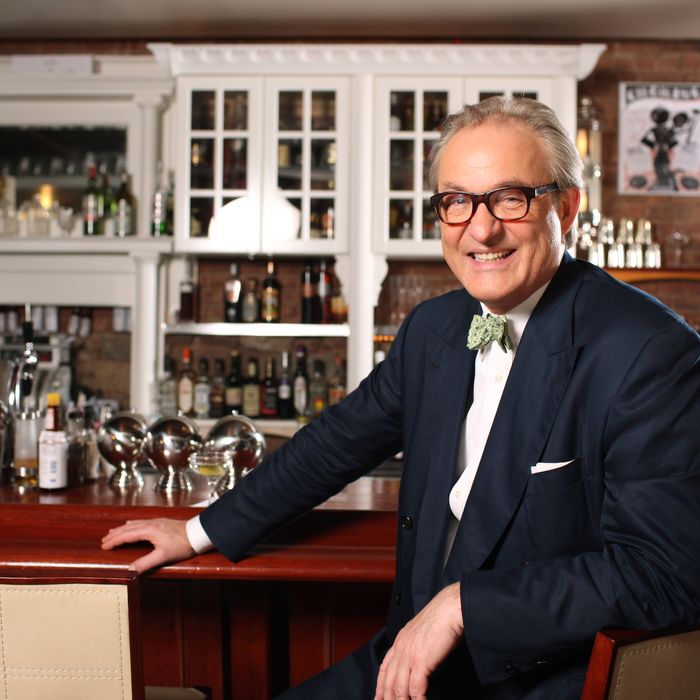 Keene waits for a drink at Silver Lining.
Photo: Melissa Hom
To say that Tom Keene has had a busy couple of weeks would be an understatement: As the editor-at-large at Bloomberg News, the co-host of the "Bloomberg Surveillance" morning radio show, and the anchor of Surveillance Midday on Bloomberg Television, the recent market turmoil has taken over his already hectic schedule. "It's been absolutely crazy," he tells us. "We came off twelve hellacious days, like twelve consecutive fourteen-hour days, in a serious financial crisis." And Keene says it's led to an interesting week of eating. "I love great food and I love trying most new foods, but because of my workload there's just a lot of black coffee — I appreciate good food because I rarely see it." After seeing his diet, filled with trips to Silver Lining, fresh breakfast grits, and a variety of tomato we'd never even heard of before, we'd beg to differ. See for yourself, in this week's New York Diet.
Friday, August 12
Friday was a special day, because we do our 7 a.m. "Bloomberg Surveillance" from the Regency Hotel on Park Avenue. I get to the office for the 5 a.m. rush to prepare, have black coffee, then go to the hotel. One of my techs there, who we call the Vollmer, has a cup of lobby Starbucks, black, ready for me. That gets me going.
Ken Prewitt and I do the show, and I have breakfast during the nine o'clock hour. A classic kind of Winston Churchill breakfast: scrambled eggs, sausage, English muffin toasted twice, home fries. And I eat about half that because I'm on live. So, I can be talking about Euro, Yen, or the president's economic policy, and I got a sausage in my mouth. The major goal of power breakfast is to not spill scrambled eggs on Ken Prewitt.
I went back to the office and into meetings. The special thing every Friday in our meetings is Pimm Fox, who is on Bloomberg TV and Radio, buys doughnuts from the Donut Pub. I contained myself to one, and my producer had two. That's at 10:40 a.m. Then I go on to TV at noon, and I have black coffee on set.
I had a double espresso after TV, and then finally, this is Friday and this is important: We were exhausted, and I had an early happy hour with Sara Eisen and Michael McKee at Opia. I had my basic drink, which is Beefeater Shaken Forever with Olives. I call that a BSFwO. We just sat and decompressed.
After that, I went to one of my major restaurants, which is Le Charlot. I would call it a wonderful, non-trendy restaurant. It's where trendy people go to hide. It's just good, basic, fresh cooking. Classic French. That night I had their green-bean salad, which is off the menu, and I had perfect tuna, grilled.
Now, late that night, I had a Kumato with a sprinkle of salt on it. Kumatos are these incredible Canadian-grown tomatoes. You can buy them at Whole Foods, and they are to die for.
Saturday, August 13
I get up early, like 6 a.m., because I'm on Eastern Standard "Surveillance" time, and have black coffee. It's Illy, hand pressed in an all-stainless-steel-bottom pot.
And I do my reading, I do Twitter, I catch up on Facebook responses. I look at the industry gossip if there's some stuff that's out there. And then at eight o'clock, I have the most important meal of the week. I cook breakfast. I cook it in silence, and I eat it in silence; there's no noise. Our lives are total, constant news and digital barrage, so I just have it in silence. It's chicken sausage; it's called Coleman Natural Original Brat Hans. And I have Pete & Gerry's light-blue eggs. I have them in a skillet exactly the way my grandmother cooked them, except she smoked cigarettes. When I was a kid, I watched the ashes fall into the skillet. This was all pre–Mad Men.
I ran errands, and I tried a latte with an extra shot at Le Pain Quotidien, which is a very rare hit and often a miss, and this morning it was perfect. The latte was perfect.
Lunch was a few pieces of pineapple, and then I continued lunch with a nap.
I made salad at home, and it's based loosely off of the famous tomato salad at Estiatorio Milos on West 55th Street. I made it at home: Mt. Vikos feta cheese, the Kumatos, yellow-pepper slices, champagne vinegar, and olive oil.
On the recommendation of Peter Elliot of Bloomberg News, I went to Silver Lining, which is a new bar in Tribeca. Just phenomenal. I can't say enough about it. I'll tell you why: I had a BSFwO. The food was just outstanding. They're going back to the values that matter on a weekday or weekend night. Terrific music.
I had their mini Bastille, which was chicken and fruit wrapped in pastry leaves, and the word I would use for it — it was exquisite. I could've had a triple order of that. And then, I had a three-cheese plate, and the bonus was they actually had extra bread that was perfect. They had no coffee because they were waiting for a machine to start for their coffee machine. Cervantes was a bartender. Cervantes poured me an Amaro Nonino. And then there was a jazz trio, and I had their bread pudding.
Sunday, August 14
Heavy rain. It was just … rain. Coffee, then I went to Sarabeth's on Central Park South. It's wonderful before the tourists descend. I had coffee, tomato juice. I usually have the farmer's omelette, but this Sunday I had the lemon-ricotta pancakes.
Later that afternoon, I had a glass of AIX rosé and some cheese. This summer I am loving AIX rosé. I try others, but I keep going back to that.
Dinner was grilled chicken with carrots and peas. And some watermelon. I don't cook often, but we were exhausted this weekend because of the workload the week before.
Monday, August 15
Monday, I had a more normal day because the crisis was lessened. I had coffee, and I had grits. Al Mayers, who is the head of Bloomberg Radio, gives me grits every morning. Quaker grits. I just like grits with pepper in it. So I had them with pepper, and then coffee. One banana.
At ten o'clock, from the pantry I had pretzels, and I had a double espresso. I did a stand-up lunch in the Xerox room — that's how tight my schedule is. That day I had a cranberry-and-turkey sandwich from Fresh & Co.
Monday night, I was at Amaranth. I had the halibut, and before it I had the eggplant mozzarella salad. Very good. I eat there all the time. That's where I have most of my business dinners. And I had a Beefeater Shaken Forever with Olives.
Tuesday, August 16
Tuesday was remarkably repetitive, which is an important thing here. Coffee, two bananas. I had pretzels, and then my sandwich was the chicken Cobb sandwich from Fresh and Co., which is my favorite. That's all before television.
After Surveillance Midday, I went to a lunch at Bergdorf with Maryam Nemazee. I eat there all the time. I had my favorite deviled eggs. And I had a very unsuccessful salad. That's how we will politically put it.
I wanted to show her the Maxfield Parrish mural at the St. Regis. We had a latte and black tea in front of the mural.
Tuesday evening, I wrote EconoChat at Le Charlot. I often write my blog there. I had rosé wine and some bread.
Wednesday, August 17
I had coffee, two bananas, and I was bad. There is healthy and then less-healthy food at the Bloomberg pantry. I snuck Pepperidge Farm Milanos because my children make me eat them. I had to have them. It was a craving.
My sandwich was a turkey-and-Peppadew from Fresh & Co. I had that sandwich at exactly 10:31. My schedules are incredibly tight from 4 a.m. to 1:15 p.m. It's meeting the challenges of the listeners and the viewers, and the No. 1 thing they want from me is smart conversation, and the smartest guests we can find, on economics, finance, and investment.
That night I wrote EconoChat at Le Charlot. I had a steak, and before that a green salad. I was starving.