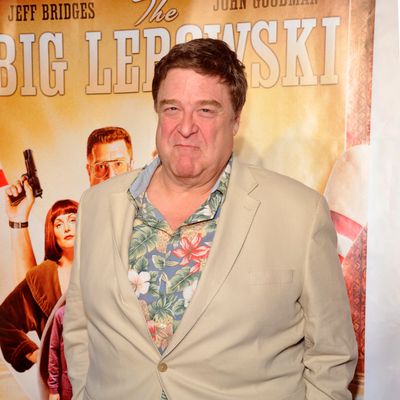 John Goodman at last night's release party.
Photo: Mike Coppola/Getty Images
Last night, the Hammerstein Ballroom hosted a release party for The Big Lebowski's new Blu-ray edition, and the film's stars gathered to celebrate the cult classic. Of course, given the main character's penchant for pot smoking, we naturally wondered what foods the cast turns to when they get a case of the munchies. The Dude himself wasn't talking, but other members of the cast were happy to abide.
Julianne Moore explained her to-each-his-own mentality: "I think it's very individual," she told Grub Street. "You know, some people like creamy, some people like crunchy."
While the two founders of Lebowski Fest debated the topic before settling on nachos, John Goodman confided to us that he wasn't exactly an expert on the topic. "I don't smoke. It makes me so scared that I throw up." Even still, he did offer one thought: "Last time I smoked I threw up, so whatever I ate before I threw up. Probably Chinese."
T Bone Burnett, meanwhile, must know as much about staying on-brand as he does about keeping a buzz going. When we posed the question to him, he matter-of-factly shot back that the best stoner food must be "White Russians, right?"