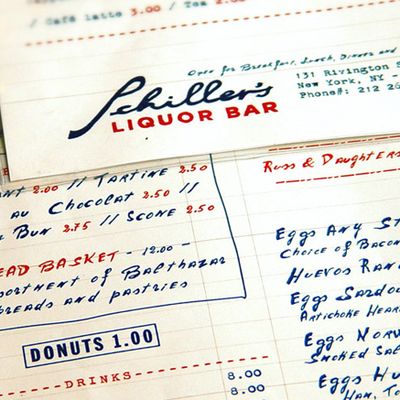 Schiller's menu: hot or not?
Photo: Courtesy Art of the Menu
Now that serious consideration is being given to the evolution of menu design as a concomitant force with the origin of the modern restaurant, it makes sense that we should take a look around at what's being handed out to guests today. A just-launched division of the design site UnderConsideration called Art of the Menu seeks to explore "underrated creativity of menus from around the world." Writing that "menus are big canvases," the site launches with considerations of seven menus, including that of Schiller's Liquor Bar, seen here. Art of the Menu is also seeking submissions of menus from around the world.
In other news, now that the scanned-sandwich scene has seemingly abated (this was more or less confirmed the other day when we were at Staples centering a pepper and egg from Defonte's onto the glass, when some slacker guy passed, rolled his eyes, and said "that's so 2009"), there is now a corresponding outlet for some downright ethereal images of scanned candy bars. The under-the-radar Scandybars has been taking a tour of the world's candy bars and assorted confections since June, but has only gotten around to Hershey's today. Just look at these radiant Chuckles!
Art of the Menu / Under Consideration [Official site]
Scandybars [Official site]
Earlier:Take a Look at Some Really Excellent Vintage Menus