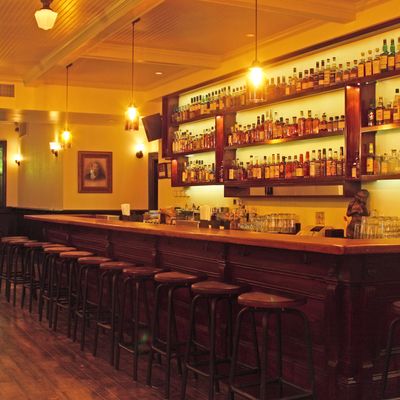 Noorman's Kil.
Photo: Courtesy Noorman's Kil
Whiskey for Williamsburg is nothing new, but at Noorman's Kil, opening Wednesday, the focus won't be the usual Maker's Mark drunk by bearded dudes in the 'burg, but rather more obscure brands like Old Potrero and Springbank, plus Scotches. "We wanted to kind of educate a younger generation of whiskey drinkers. There's that weird stigma that it's all Park Avenue guys with suits," says Marcel Simoneau, one of the four young co-owners of the Grand Street spot. As for pairing this with grilled cheese, well, "Those are the two things we really like," Simoneau explains.
But don't worry if hard-core whiskies aren't quite your bag. There'll be regular tastings during the week for seasoning the taste buds, plus twelve beers on tap and a rotating lineup of three whites and three reds. The partners built out the 174-person space themselves, lugging the 1880s bar down from Amish Country, and freshening up the backyard with grapevines and benches*. Bread for sandwiches like the Jane — made with sourdough, New York sharp Cheddar, and My Friend's Mustard — comes from Orwasher's and Grandaisy, and cheese from Murray's. Expect whiskey and grilled cheese pairings once things get rolling. For now, check out the full food menu below.
Jane
New York Sharp Cheddar, My Friend's Mustard on sourdough

Sylvia
Empire Jack, tomato, Herbes de Provence on ciabatta

Betsy
Vermont Chèvre, apricot jam, honey, thyme on olive bread

Solona
Jalapeno Jack, hot pepper sauce, tomato, cilantro on sourdough

Maefred
Double Cream Brie, local mushrooms, rosemary on ciabatta

Karen
Fromage Blanc, Gruyere, New York Sharp Cheddar, Havarti on sourdough

Vernice
Connecticut Ricotta, Nutella, seasonal fruit preserves by Anarchy in a Jar on sourdough
Noorman's Kil, 609 Grand St., nr. Leonard St., Williamsburg
*This post has been corrected to show that this is not the former Wombat space.