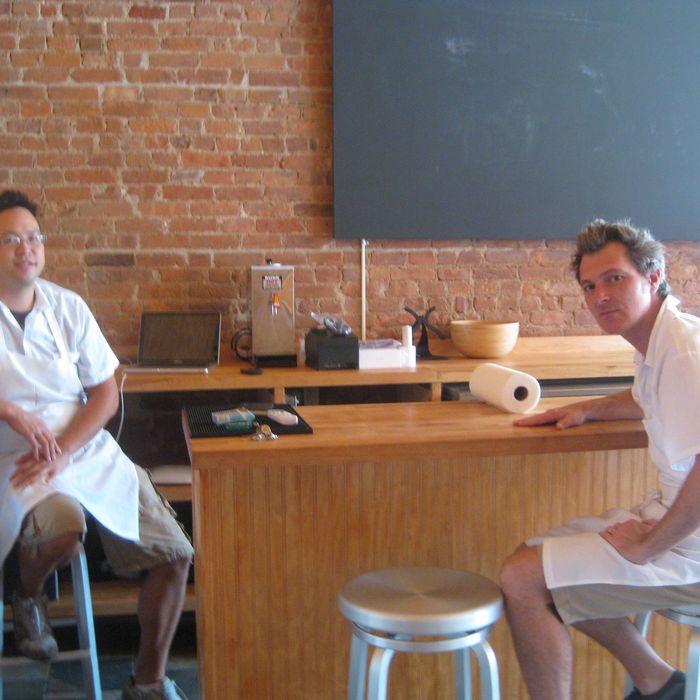 Chuko's David Koon (l) and Jamison Blankenship at their ramen counter.
Photo: Jessica Loudis
Having lived in Prospect Heights for the last two years, Morimoto vet Jamison Blankenship was well aware of the lack of late-night food options in the neighborhood. Which is why he and partner (and fellow Morimoto alum) David Koon chose the corner of Vanderbilt Avenue and Dean Street to open Chuko, the neighborhood's soon-to-open, not to mention only, ramen joint. When Chuko rolls out within the next two weeks, it will serve Japanese noodle soups and locally sourced comfort food in the $12 range; desserts designed by former San Francisco SPQR pasty chef Jane Tseng, with ice cream from nearby Ample Hills; and, to drink, beer and wine, plus homemade sodas.
Fitting for a space previously occupied by a string of diners, the 35-seat Chuko takes its inspiration from the cozy, workaday ramen shops found all over Japan — with a distinctly Brooklyn aesthetic: exposed brick walls, aluminum chairs, and refurbished wood surfaces. To start, the menu will feature soy, miso, pork, and vegetarian ramen broths; Heritage pork gyoza; oyster and spicy-chicken baked buns; and some vegetarian options for small plates. Chuko is closed Mondays and open from 5:30 to midnight during the week, and till 2 a.m. on Fridays and Saturdays.
Chuko, 552 Vanderbilt Ave., at Dean St., Prospect Heights