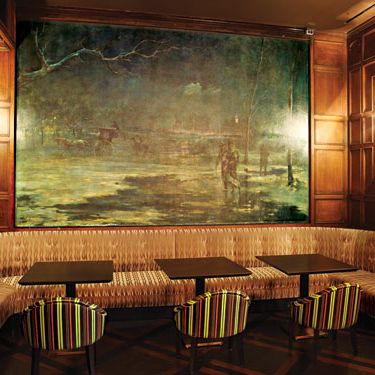 The murals by Everett Shinn will stay.
Photo: Hannah Whitaker / New York Magazine
We're hearing that the owners of the Bobby Van's chain — who have nine locations in New York and Washington, including five in Manhattan — will shortly take over food and beverage operations at the just-closed Oak Room in the Plaza. The restaurant, of course, closed at the end of last month on the heels of several bad reviews, a few reboots, and at least one big lawsuit.

We have not yet received a confirmation or denial from Bobby Van's, but last month a representative told the New York Times that the hotel was "in serious negotiations with a noted New York restaurant operator." Bobby Van's would seem to be a good match for that description.
This recently filed SLA application also appears to confirm the rumors: Notice the name "Joseph Smith," which also appears on all of the licenses associated with Bobby Van's. (See them here, here, here, here, and here.) And our guess is that Joseph Phair is the "P" in the name S & P Restaurant Corp, the LLC listed on the Oak Room application.
We'll keep you informed, but either way, the reopening of the restaurant is at least sure to be great news for Manhattan's pint-size heroines and future Gossip Girls.
Earlier: Pour One Out for the Oak Room, Closing Tonight
Related: 'Monster Boss' Eric Hara Sued by Former Oak Room Pastry Chef