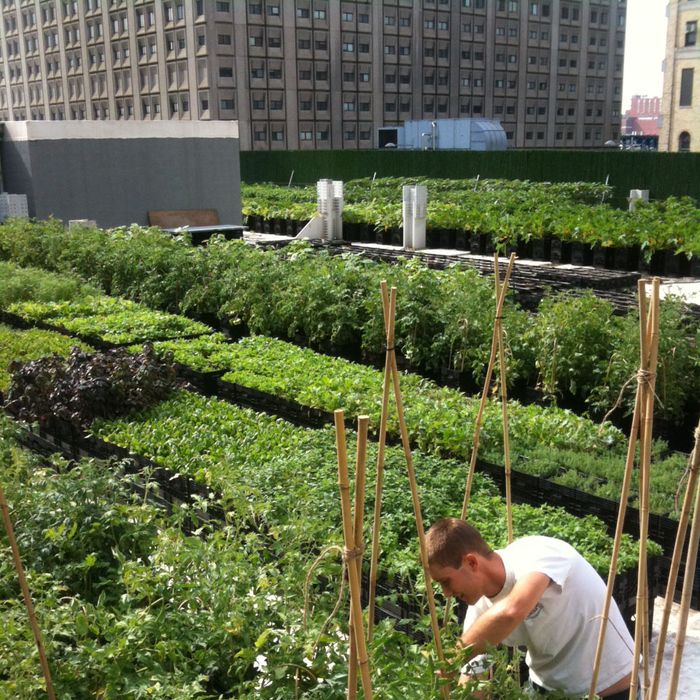 Staking the tomato plants at Riverpark Farm.
Photo: Courtesy Riverpark Farm at Alexandria Center
The question of whether growing produce that wafts with city terroir is such a good thing has been posed, but over at the two-week-old Riverpark Farm at Alexandria Center, chef Sisha Ortuzar is not worried. The farm is about 200 yards from the FDR freeway, "something we took into account," Ortuzar tells Grub. "It has an effect on things that are leafy that take a long time to grow," he acknowledges, but "it doesn't affect fruit — eggplants, squash." You'll recall that one New Yorker writer's gripe over at Bell Book & Candle was the exhaust-fume-redolent lettuce in particular, and Ortuzar explains that the farm's adviser, Michael Robertson of Grady's Farm upstate, is particularly adept at adapting to city conditions. For instance, greens are harvested at "no more than four days old, so they're baby greens … we're not just growing willy-nilly." What's more, "Being so close to the river, we get a good amount of wind. It's a lot of fresh air, circulation of air."
Ortuzar and 'wichcraft partner Jeffrey Zurofsky had planned when opening Riverpark less than a year ago to eventually have a farm on the premises of the Alexandria Center science park, which houses the restaurant. The duo was lucky to be able to take advantage of a "stalled site," one of 600 such lots in the city where construction is on hiatus. Now, just two weeks in, two staff farmers hired by the restaurant are tending more than 6,000 plants in 85 varieties of fruits, vegetables, and herbs. Construction will eventually resume on the site, of course, which is the future home of Alexandria's west tower. Ortuzar tells us they've planned through "spring, summer, and fall" of 2012, but he's not concerned about what happens after that.
"When construction resumes, we'll just relocate [the farm]," he tells us. "There's lots of room here. The cool thing about the farm is it's built on milk crates; it's basically like pieces of Lego we can assemble, even if we have to split it up." Even over the next few weeks, the milk crates are being moved around while an elevated deck that will hold a communal table reservable for special farm dinners gets built. "It's very flexible. What really makes this very urban is we're not planting right on soil in the ground; it's modular."
Another particularly urban aspect of Riverpark Farm is the "Heat Island Effect," which makes cities warmer than rural areas. "Peppers do really well," Ortuzar tells us. "One of my favorite vegetables that we're growing here is okra. It's a plant that doesn't really grow in this climate. But that's one of the advantages of growing here; it's a lot hotter than upstate." Ortuzar's kitchen has taken to pickling and frying the okra, which invariably sells out.
That triple-digit heat wave from a few weeks ago occurred just as the crops (which had been planted in their crates at Grady's Farm) went in at Riverpark; suddenly Ortuzar had eggplant, cucumbers, and other crops up the wazoo. In response, the chef came up with a lamb dish incorporating all five varieties of eggplant the farm grows and set to work developing a cold cucumber soup. "On a daily basis we go out there and talk to the farmers and see what needs to be harvested that day" in order to plan the menu accordingly, Ortuzar says. "We're working with the farmers — kale we're having them harvest at the baby stage, so we're able to use them raw and in salads." The ten varieties of tomatoes are just starting to come in, and when those explode in a wave of ripeness the kitchen will be busy not only using them in daily dishes but also "preserving to use them later on, in tomato juice, tomato jams," Ortuzar tells us.
It's exciting, to be sure, to have vegetables at one's fingertips that are so warm from the sun "we have to let them rest," as Ortuzar tells us, but we wondered how Riverpark Farm is any different than the seemingly rather faddish rooftop gardens popping up at restaurants and even hotels around town. "It's different in scale," the chef tells us. "I don't think there's another restaurant in town that has a 15,000-square-foot farm. We're fortunate enough to have a space big enough to actually produce a volume of food to serve everyone coming to the restaurant."
Related: Maybe Manhattan Isn't the Best Place to Plant a Garden