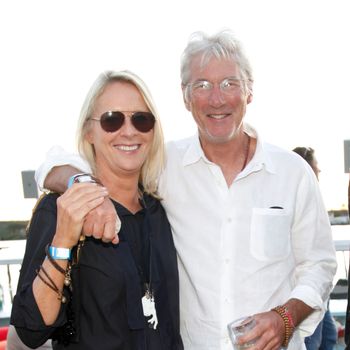 Richard Gere, in summer mode.
Photo: ADRIEL REBOH/Patrick McMullan
What do Patrick Ewing, Richard Gere, Jimmy Buffett, and Snooki's dad have in common? Nothing, probably, except for the fact that they all have to eat! Ewing did just that this week in midtown, while Gere and Buffett hung around Long Island for a weekend charity event. And Snooki's dad? You don't even want to know what that guy did! But, unfortunately, you will; lots more celebrity sightings straight ahead.
Abe & Arthur's: The Shriver ladies (Maria, Katherine, and Christina) had a two-hour post-Broadway dinner. [Gather Celebs]
Fred's at Barneys New York: Earlier that day, the Shriver daughters left the parental drama behind for a one-on-one lunch. [Page Six/NYP]
Indochine: Cassie and a girlfriend came in after a long day of shopping to unwind with some martinis. [Grub Street]
Lavo: Patrick Ewing, back in to New York to dine with friends, was mobbed by fans looking for an autograph. The line at his table got backed up, however, since "there was only one pen available." [Page Six/NYP]
During the Saturday brunch party, Wilmer Valderrama, Michael K. Williams, Todd English, and Michael Phelps all hung out, though probably not together. [Gatecrasher/NYDN]
Nick & Toni's: Madonna and 29-year-old French boyfriend Brahim Zaibat had a romantic Friday-night dinner. [ShowbizSpy]
Turtle Crossing: Alexander Skarsgård is still eating up the area, this time getting grilled artichokes, pappardelle, and beet salad on Long Island with Kate Bosworth. [Page Six/NYP]
The Surf Lodge: Richard Gere was "really into the music" and "intently clapping his hands" when his friend Jimmy Buffett played an impromptu set. [Gatecrasher/NYDN]
The Volstead: Andy Polizzi, father of Snooki, and a male buddy tried to pick up some ladies, spending over a grand on rosé in the process; the two men left the bar together, sans girls. [Gatecrasher/NYDN]