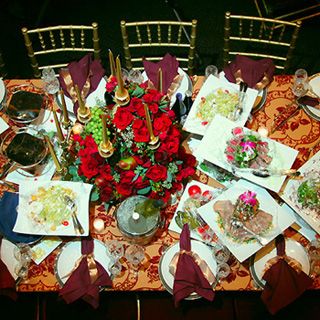 That's a lovely tablecloth, right?
Named for the title character of Pushkin's novel in verse, a new 112-seat restaurant called Onegin will replace the Pizzeria Uno at 391 Avenue of the Americas in Greenwich Village later this fall, reports DNA Info. Onegin will be brought to you by the owners of Rasputin, the cavernous, over-the-top Russian restaurant nestled on Coney Island Avenue just a few blocks north of Brighton Beach. Taking a lead from Russian Samovar, Onegin will infuse its own vodka and sell shots of the chilled stuff in flavors like horseradish and honey-pepper. The old Pizzeria Uno oven will be replaced with a traditional wood-burning clay oven called a pech, along with a full menu of spice-rubbed and puff-pastried entrées that will cost "at least $20."
But what will Onegin really be like? A new wave of Russian restaurants, bedazzled with nouveau opulence, seems to be coming to the city. According to DNA Info, Onegin's owners have assured Community Board 2 the new restaurant will not be like Rasputin. They won't seek a cabaret license and they won't play live music. In a way, that's too bad: With its polished granite exterior and stoic, knockoff-suited doormen, Rasputin in Brooklyn looks something like a mirage mausoleum along the highway in Homecrest. Inside, however, you can find mixed neon drinks, blaring techno-thump, and lots of dyed feather boas.
While the menu includes the expected borscht, vodka, and pelmeni, food culture at Rasputin is firmly rooted in plate presentations that are all-but-extinct everywhere else: think layered vegetable Napoleons, foie gras medallions with berry gastrique, grilled portobello mushroom caps with balsamic squiggles, rosemary spears, and salmon with white-wine sauce. In other words, dishes that haven't really been in vogue since the Iron Curtain fell.
Russian Grandeur Coming to Former Greenwich Village Pizza Spot [DNA Info]