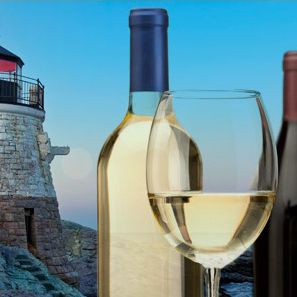 Those are either really big glasses, or it's a really small lighthouse.
For three glorious days, the Newport Yachting Center transforms into an oasis of boutique wine, microbrews, craft spirits, and gourmet foods known as Newport WineFest, the largest outdoor food and wine festival in the region. It attracts culinary experts and oenophiles from around the country, and here's the good news: We're giving away two tickets.
Up for grabs are two tickets to the Chefs and Prosecco Brunch on Sunday, August 21 from 9:30 a.m. to 11 a.m., courtesy of Grub Street Boston and Gilt City. Featuring an array of foods provided by Newport Restaurant Group Catering and celebrity chefs sharing their favorite recipes and cooking special dishes, the Chefs and Prosecco Brunch is full of mimosas, smoked salmon, and other such stuff of which civilization itself is made.
To Enter
On Monday, August 15, tweet us a special phrase (below), and we'll pick one winner at random.
Here are the details:
• Follow us, @GrubStreetBOS.
• Tweet the following phrase and hashtag: "Next stop, Newport WineFest with @GrubStreetBOS and @GiltCityBoston! #grubboston"
• Entries will be accepted between 10 a.m. and 4 p.m.
• Winner will be announced shortly after contest ends.
Good luck!
NO PURCHASE NECESSARY TO ENTER OR WIN. Winners will be chosen at random, and must be 21 years of age or older to attend (valid I.D. required). Must be a follower of the GrubStreet Boston Twitter account (@GrubStreetBOS) to win. Winner will be notified via Twitter and have three (3) business days to claim prize. One entry per person only. Click here to view the complete rules.
Newport WineFest [Gilt City]