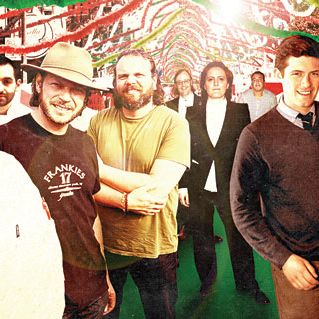 The cast of the spruced up Feast of San Gennaro.
Photo: Alamy (background); Patrick McMullan (Bloomfield, Dufresne); Gabi Porter (Hearst); Courtesy of Dan Ankenman (Franks); Andrea Mohin/The New York Times/Redux (Stulman); courtesy of the chefs (remaining). Illustration by Jesse Lenz.
This week in the magazine, it's Fall Preview time. Rob Patronite and Robin Raisfeld bring news of the upgraded Feast of San Gennaro, the Mario Carbone and Rich Torrisi–led effort to gourmet-ify the annual street fair, with the help of Wylie Dufresne, April Bloomfield, and other notable New York chefs. The Robs also call out new restaurants arriving from abroad, including "neurogastromical" spot Romera New York and Gastón Acurio's La Mar Cebicheria Peruana. Domestically, the duo brings news on City Bakery chef Ilene Rosen, who's Brooklyn bound with restaurant and "mini-market" 606 R&D;. Plus, a Q&A; with Motorino's Mathieu Palombino, whose next project is the upcoming Bowery Diner. And that's not all: Check out many more restaurants the Robs are anticipating.
If nightlife is more your scene, fear not: There'll be plenty going on after hours this fall, including imbibing at these new and upcoming bars. Expectant mothers probably aren't out carousing, but they might consider cooking up their baby's placenta. Also: Read about the changing role of New York City food trucks, and the coming of Parisian pastry shop Maison Ladurée.