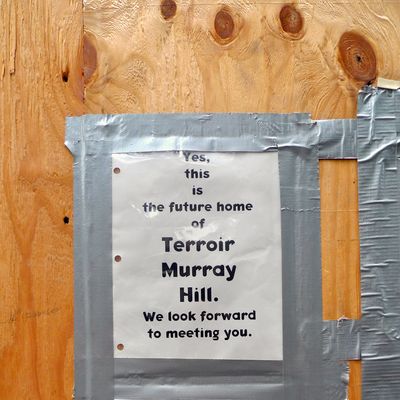 Welcome to the neighborhood!
Photo: Hugh Merwin
We told you back in June that a third Terroir location was headed to Murray Hill, and new signage now tells us exactly where Marco Canora and Paul Grieco's acclaimed and quirky wine bar will be landing: A former frame and print shop located at 439 Third Avenue between 30th and 31st Streets is being renovated and will open next month as Terroir Murray Hill. The future 55-seat restaurant went up before Community Board 6 back in April and put out a call for staff late last month (sample interview question: "Who is more evil, Emperor Palpatine or Michele Bachmann?") Architect Richard H. Lewis, who designed the original Terroir, is overseeing the interior and build-out.
Grieco told Grub Street the completed restaurant would in some way complement the old farmland and stately mansions that once occupied the neighborhood, saying, "We will try to do some things … to reverberate the terroir of Murray Hill." Grieco added that the new location's menu will be similar to the roster of Italian snacks already served in the East Village and Tribeca, though last week the Feast showed us a video of some tasty-looking Japanese-style fried chicken (made by a line cook for the restaurant's family meal) that Canora says is so good that it will feature on the menu permanently in Murray Hill.
Terroir, 439 Third Ave.; no phone yet