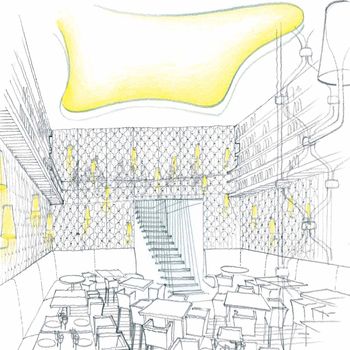 A rendering of the dining room.
Photo: Courtesy Edwin Bellanco
More details have emerged on the yet-to-be-named midtown restaurant Morrell Wine Bar & Cafe chef Edwin Bellanco plans to open in mid-December at 4 East 46th Street. Grub Street learns that the high-ceilinged space will have 170 seats, divided into a front room designed for businesspeople and tourists who want a drink and quick bite, and a "more formal" back dining room, as Bellanco tells us; there will also be a mezzanine for fancy Rock Center types "that like to be seen but not touched."
Bellanco tells us the cuisine will be American, but influenced by French and Italian techniques, reflecting the chef-owner's time learning from Tom Colicchio at Gramercy Tavern and from David Bouley. Think "tacos" made from polenta wheels topped with Cubano-style braised pork, bollito mistos and stews in the winter, and seasonally changing crudos. "I'm trying to do something the guest is familiar with and not get too crazy," Bellanco explains. Well, he certainly seems to know the midtown diner! To accompany: at least 25 wines by the glass and "an ambitious cocktail program." The untitled restaurant (not that Untitled) will be open for "business lunches and early dinners," plus drinks and nibbles, and Sunday brunch.