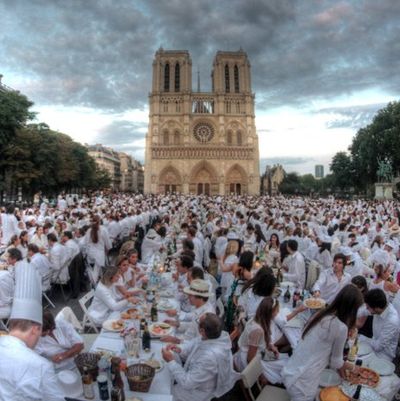 Mass confusion around Parisian picnic.
Photo: Dîner en Blanc
Mon dieu! The whole Dîner en Blanc thing seems to be creating a lot of unnecessary stress. Last week, Grub Street tried to RSVP only to receive an automated, and slightly incoherent, response, implying that we were put on the 2012 guest list. (Thanks, but no thanks!) Now, 1,800 New Yorkers, just dying to bring their own food and drink to a crowded picnic that costs 50 bucks for some sense of Parisian flair, have been thrown for another loop.
Everyone was charged on their credit card, but not everyone will be admitted! Now it's a big, emotional mess … The Wall Street Journal reports, "'To have paid & proceeded to prepare and now be told I'm not going is just heartbreaking,' wrote Michelle McCurdy on Facebook. 'The past 2 days have been embarassingly [sic] & unnecessarily stressful for me.'"
Okay, everybody, breathe. We have two alternative solutions, not including half a Xanax.
Check out another francophile picnic from Le Fooding, which looks like it will be a bit more civilized and much more enlightening (there's a demo that starts at midnight called the "Exquisite Corpse," referring to the French tradition in which each chef uses part of the ingredients from the previous meal to cook something new).
Or how about this? Call a friend, pack a sandwich, and pop a squat in the park. Bring a bon bon, call it dessert, and relax.
Tickets Available for Le Fooding's Return [NYT]
No Seat at Table [WSJ]
[Earlier]