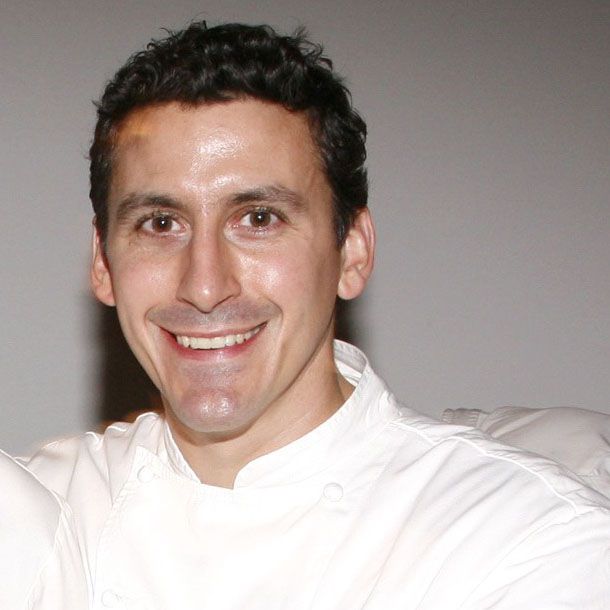 Double Crown chef Brad Farmerie.
Photo: Patrick McMullan
When we heard Brad Farmerie and partner AvroKo would shutter upscale-Asian spot Double Crown to make way for the racehorse-named Saxon & Parole, our stomach instantly began mourning the loss of its favorite Sichuan chicken wings. But Farmerie assures us, "I don't see it as a closure; I see it as a Saxon & Parole opening. We've had three good years but we want to keep pushing, we want to do something even better." He says it's partly about wanting to experiment: "We've had dishes that have not worked on Public's menu or Double Crown's menu." You already heard about the insane-sounding steak with bone marrow béarnaise, and Farmerie says he'll use his connection with Heritage Farms to "look at different cuts and reinvent the pork chop," maybe with "something quince and saffron based, a flip on applesauce, as a sauce." Also in the works: "a lot of great stuff off the grill; a whole branzino stuffed with crab and Parmesan."
To tie in the pair of racehorses the spot is named for, there will be an equestrian element involved in the space's redesign, according to AvroKo principal Kristina O'neal. "We had talked about doing it like a lot of the stable houses we're seeing renovated downtown and throwing in a Bauhaus-ian twist," she say. That should translate to "a nice balance between warm material where you can really see the brick or wood, and some nice contrast with the details in the lighting or at the bar that are very modernist in approach." Specifically, the Bowery entrance will move "almost to the corner," and the space will be redesigned to feel less "loft-y" and more "intimate."
Parole, it turns out, is not just the name of a long-dead horse, but also a long-dead brand of whiskey, and that will influence the cocktail menu. The team is bringing in Aussie Linden Pride to head up the cocktail program and commissioning a distiller to make a house brand of whiskey (but will it be moonshine?), though Farmerie demurred to say more about that right now.
For those mourning Double Crown, Farmerie promises, "We have some great stuff planned for the next couple of weeks. We're going to do some greatest hits menus" before the spot shutters August 20. And, he says, "There's no way I'm throwing away my recipe box. We've built some great dishes, some great drinks; that might find a home somewhere else, somewhere down the line."
Earlier: Double Crown Closing, Reopening as Saxon & Parole This Fall