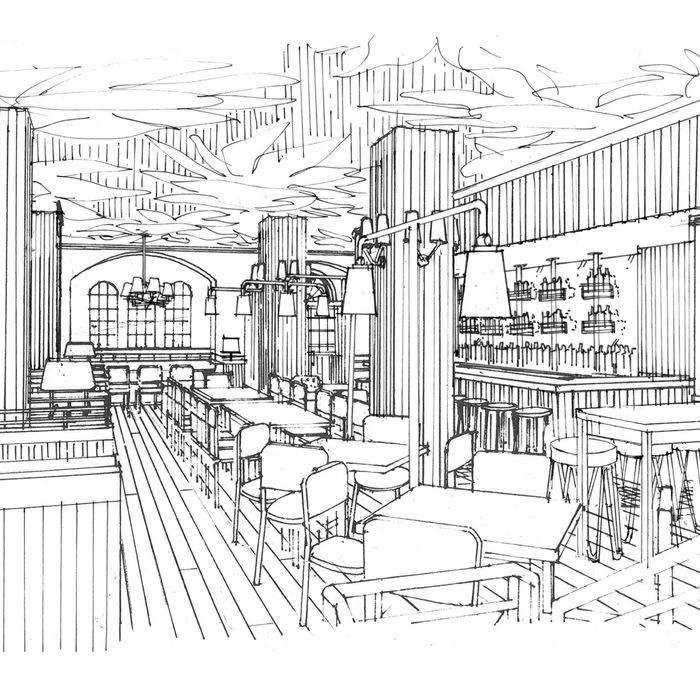 Like this, but with people and more color.
Photo: Courtesy of Crème Design
As reported earlier, Alain Allegretti will open a new restaurant in the old Bette space at 461 West 23rd Street. The chef closed his two-year-old namesake restaurant last fall and soon after took over as corporate executive chef at midtown's La Petite Maison. The New York Times reported in June that Allegretti will continue to consult for La Petite Maison as he readies his 23rd Street space for its projected mid-September opening.
Rumored to be called La Promenade des Anglais, the new restaurant is the result of a partnership between Allegretti and LDV Hospitality. (The group also operates Lugo Caffé near Penn Station and Scarpetta, among other properties.)
While representatives from the restaurant would not confirm or deny its name, they've told Grub Street that Allegretti is targeting a mid-September opening. The dining room is outfitted with brass lamps, blue-velour booths, and banquettes. There are around 100 seats in all, including a separate bar area and a private dining room that overlooks the greenery at next door's London Terrace Gardens. Brunch, lunch, and dinner will be available all day in the more casual, no-reservations bar area, where diners looking for a quick plate or pasta or a merguez burger and a beer can drop in for a quick meal. In the main dining area, Allegretti, who was raised in the south of France and trained under two powerhouse French chefs also named Alain (Chapel and Ducasse), will serve a menu inspired by the French Riviera. No word yet on whether Allegretti will include the dish of ravioli Niçois (stuffed with braised oxtail, Swiss chard, Parmigiano Reggiano) he served at his first restaurant.
Earlier: Allegretti Takes Bette
Related: After Two Years, Allegretti Closes for 'Renovations'