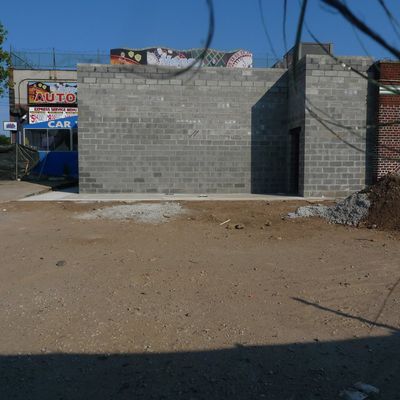 Empty lot, you'll be a beer garden soon.
Photo: Hugh Merwin
South Brooklyn–focused arts and culture freebie mag Overflow has run an interview with busy restaurateur Ted Mann, who has 10 to 50 percent ownership of eleven restaurants scattered throughout Brooklyn, including Bay Ridge's new and deluxe Gold Coast Delicatessen. It was reported in March that Mann and his partners were not only building a classic deli, but also well into the planning stages of an enormous, 13,000-square-foot beer garden and restaurant in South Slope. At Seventh Avenue and 19th Street, the sprawling location is sandwiched by Prospect Expressway on one side and beautiful, hilly (and parrot hangout) Green-Wood Cemetery on the other. From the interview, the place sounds equal parts mean, green, and serene.
The property, which covers the equivalent of a city block, was once a mechanic shop and is still attached to a network of car washes and adjoining air freshener emporiums. Overflow reports 10,000 square feet of the forthcoming beer garden will be all naturelike, with "landscaping, trees, grass, and a fire pit." Mann describes the vibe as more "green," rather than utilitarian beer hall where guys in suspenders slap the long rows of tables with their beer steins and sing in unison about cuckoos. As such, the relatively chill-seeming, landscaped areas will be stocked with recycled metals and reclaimed wood furniture. "We want it to feel like a private park," he says. Accordingly, the menu will apparently follow a picnic theme — "Everything you'd take to a park," Mann says, "but on a higher scale."
The beer garden will also utilize an old industrial outbuilding on site, one that housed the old mechanic's car lift, which will also stay. The 3,500-square-foot indoor space will be enclosed and will be heated through the winter by a fireplace that is also constructed of recycled materials. Some nights of the week, says Mann, bands will play. A wilderness vibe and live music: Mann really is his father's son.
And its name? Well, Mann tells Overflow it's "not yet named," but an SLA license application filed back in February lists the place as Greenwood.
Ted Mann [Overflow]
Earlier: Ted Mann (Secret Son of Ted Nugent!) Plans Deli and Beer Garden in Brooklyn