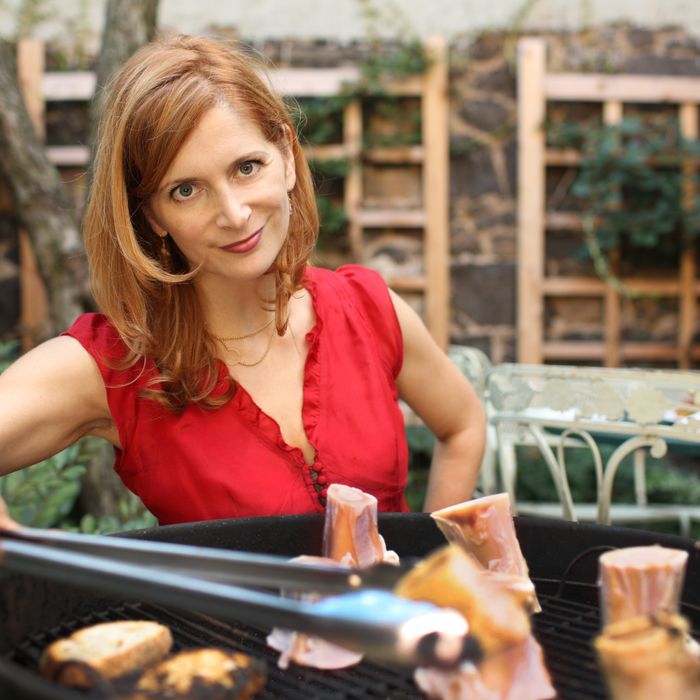 Clark, just grilling up her regular breakfast.
Photo: Melissa Hom
Even if you don't recognize Melissa Clark, you've probably cooked a recipe of hers. "I'll make six or seven things a day and, you know, I have to taste them all," she tells us. That's because, in addition to working on numerous cookbooks, she is also the person behind the New York Times' long-running "Good Appetite" column, a contributing editor at Gilt Taste, and author of the forthcoming Cook This Now. She's also currently at work on a new cookbook from the owners of Franny's in Brooklyn. But even though she catalogues everything she cooks for professional reasons, she says she was still surprised to see her Diet in writing: "It was horrifying to see what I wrote! I mooch off my kid and I eat ungodly amounts of food!" But what she calls ungodly, we call impressive. Take a look for yourself in this week's New York Diet.
Friday, August 19
Woke up and fed my daughter, Dahlia, who will be 3 in October. She and I shared a little bowl of raspberries and cream, some toast and butter, and three apricots. And then I had a cup of tea. Every morning I have Assam tea with milk.
After that I went for a pretty intense run, so I was starving when I came back. I made a smoothie with sheep's-milk yogurt, nectarines, blueberries, and a banana.
For lunch, I had a bowl of minestrone — a summer minestrone that was one of Andrew [Feinberg]'s recipes from Franny's that I had to test from the day before. I had that with some crumbled ricotta salata on top, because it just needs that little bit of salt. I had a cup of tea after that. And then that's when I had the cookie-batter moment. I've been working on this chocolate-chip-cookie recipe for my blog, and you have to let the dough ripen for a couple of days. So what am I supposed to do? Not eat it? I ate a bunch of that and realized that I might eat more cookie dough than I do actual cookies.
After lunch, I wanted to take Dahlia to see my sister, who just had a baby. My sister asked me to bring some Ample Hills ice cream over, two pints. So I went there and got some Salted Crack Caramel and Peppermint Patty. And of course I had to taste them both to make sure they were worthy of my sister.
While we were at my sister's house, I had another tiny little taste of the Peppermint Patty, because it's so outrageously good. And then Dahlia had an ear of corn, and I shared that with her a little bit. We're very good at offering each other food all the time. Except for the cookie batter.
Friday night was date night, so my husband and I went to Fedora. We got there at 7:30 p.m., but it was pretty empty so we were able to get a seat at the bar. I think most people were waiting for the rain to stop, but we just splashed right through it, because I really wanted their wagyu tongue.
So I ordered that, and I had the Toad in the Hole, which is eggs and tripe. My husband Daniel had this amazing heirloom-tomato salad with bacon mayonnaise, which is my new absolute favorite condiment in the whole world. And I had the fried chicken — it's famous for coming with the chicken foot still attached. Daniel had the chicken, and I had the foot. I really love chicken feet, and I'm really good at eating them. You can chew on the bones and very, very delicately kind of spit them out. It's a dainty maneuver.
We also had this great wine from Lopez de Heredia. It was from — I've never seen this before — Cubillo. I think it's sort of their entry-level wine, but it was really nice. And then we went to the movies.
Saturday, August 20
Tea with milk, and let's just say I "shared" Dahlia's oatmeal.
Saturday's our farmers' market morning. Dahlia and I shared a scone at an amazing little pastry shop on the way called Joyce, and their scones are just so much better than the scones at the farmers' market, so we go there. And then I got a maple iced tea at the farmers' market, and a handful of blueberries.
When we got back for lunch, we got those great eggs from Evolutionary Organics. They're really cool — they're blue, and they're just so tasty. We fried them up and had them on some whole-grain toast and some plums, also from the market.
Later in the afternoon, we went to the playground with Dahlia, and she and I shared some dried mango and a handful of Cheddar Bunnies, because Cheddar Bunnies are like crack; they are just so good.
That night we had a dinner party. I had some green-garlic butter from another project in my freezer, so I put that on some pumpernickel bread and made these little crostini with smoked salmon.
I had this gorgeous tray of zucchinis from the farmers' market, and those sun-gold tomatoes, lemon-thyme from my window box, and I had put it all out on this tray. I was going to broil it, make it all caramelized and gorgeous, but I totally forgot about it. It burnt to a cinder. So we did not serve that. It was very sad.
But we did have a big salad, a very summery one with raw corn and cucumbers and avocados, herbs, sun-gold tomatoes. And I ended up testing a recipe from Franny's — a spicy squid pasta with capers, cherry tomatoes, and herbs. It was so great. We were drinking the sauce.
A friend from New Orleans brought over these amazing pralines for dessert, which he made with cultured butter and buttermilk. So they have a little tang to them, and then lots of this flaky sea salt on top. They are outrageously good.
We drank a 2005 Sancerre, and I can't remember which one it was. And then we had a Cru Beaujolais, a Jean-Paul Thévenet.
Sunday, August 21
Tea, blueberries. I did not eat any of Dahlia's Cheerios, but I did eat a praline when she wasn't looking.
For lunch, I made Dahlia one of her favorite lunches. It's tofu with soy sauce, garlic, and ginger. I fry all of that to make it all crispy, with coconut brown rice. And a nectarine. And some cantaloupes. She had that, but we shared the fruit, and I had some more leftover minestrone.
In the afternoon, my friend Dave Wondrich invited us over, because somebody had sent him a package of something called punch biscuits, and he's a punch authority. The traditional way to eat the biscuits is to float them on a punch. They're like the hardest, driest things, so they absorb the punch and sink to the bottom. We had what's called Major Bird Punch. And we had anchovy toasts, which are the perfect punch accompaniment. I brought over mortadella and sausage and cheese, and Dave's wife brought out radishes with butter and salt.
It wasn't really dinner, so when we got home we dug up some leftovers. There was corn, so I made corn on the cob. And there was some leftover squid pasta. Not enough for a meal, but I was able to turn it into a frittata.
Monday, August 22
I had buttered toast and tea. I also got these doughnut peaches at the market and had a bunch of those. Then I had a meeting at Gilt, so I had a cappuccino before I went into the meeting because I was feeling a little tired. The great thing about meetings at Gilt is that, all of a sudden, people arrive with these giant boxes of food because everyone wants to sell their stuff on the site. Bien Cuit, in Boerum Hill, sent over all this stuff: little pizzas, mango tart, croissants — all kinds of food. We tasted them, had little bites of everything. That was really fun.
When I got home, I had a tomato sandwich. Actually two little sandwiches. One was tomato with mayo, and the other was anchovies and butter. So I had that and more peaches. I eat a lot of peaches.
Monday night is Daniel's night to cook, and he makes a better roast chicken than I do. It's the best roast chicken in the world. That night he did it with fingerling potatoes and carrots. Everything was still crunchy and so delicious. We were just so happy about it that we broke out a bottle of nice wine. Is there a better reason to open a nice bottle than making the perfect roast chicken? I don't think so.
Tuesday, August 23
Only half a cup of tea, without milk.
My recipe tester, Sarah, and I were testing a recipe for Gilt. Instead of roasted marrow bones, it was grilled marrow bones. It was a recipe from Eric Bromberg from Blue Ribbon. Grilled marrow bones are amazing! So for breakfast I basically had marrow on toast, which was fine with me.
I had all this marrow because we had extra bones that we didn't grill, so I was thinking, What if we cut the marrow out and used it like a fat, like butter, to make biscuits? So I made marrow biscuits. Sadly, they didn't turn out as well as I'd anticipated.
After all that, lunch was pretty simple. I just had a big bowl of cantaloupe. And some leftover pistachio cake from Brooklyn Larder.
In the afternoon, Sarah was testing more recipes, and we had onion marmalade and roasted red peppers from Franny's, so I had bites of that.
Tuesday was a crazy day. In the late afternoon, two editors from Men's Health came over to do a video of me cooking recipes from my upcoming cookbook. They wanted to shoot three quick summer tomato recipes: pasta with smoked bacon, tomato, and rosemary sauce; an heirloom tomato and ricotta salad with string beans; and then a roasted tomato salsa with avocado. So, naturally, we had to eat those, too.
That night I went out to dinner, which was just like suicide after that entire day. I went to a new restaurant called Tertulia. I was with Kate Krader from Food & Wine and Frank Bruni, so it was, like, all foodies. We ordered everything on the menu: goat butter spread on bread with these amazing Spanish salt-cured anchovies. We had the ham and the pan con tomate, which is just heirloom tomatoes rubbed on garlic toast. Then we had the egg, potato, and Iberico ham toast. Seamus Mullen's eggs are just so perfect! Then we had the mackerel. I love mackerel and this was just so fantastic. We had the sugar snap peas with radishes and sheep's-milk cheese and mint; the eggplant with citrus yogurt, and we had the Padrón peppers. Then we had the chorizo with the garbanzo beans — unbelievably good. Delicious sausage, delicious beans.
We didn't get the prime rib, but that's what I'm going to get next. I'm going to take Daniel on date night, because I really want that prime rib.
Wednesday, August 24
Wednesday morning I woke up feeling not so fantastic — slight food overload. It took me a while to get going, but I had my tea and I didn't touch Dahlia's breakfast.
Around eleven o'clock I had some sheep's-milk yogurt with peaches and plums, to kind of cleanse.
I had some errands to do in town, so I went to the farmers' market. I got apricots — I can't believe they had them so late in the season, but I picked them up. And had some tea with milk and honey.
For Gilt, I'm working on this really cool peanut-butter-and-jelly pie. I'd made a shortbread crust, and the dough was in the fridge. So … you know what happens when there's dough in the fridge at my house.
I picked up Dahlia and went with her to Franny and Andrew's daughter's 5th birthday in Prospect Park. They had a piñata! And they had an incredible spread: fried chicken with honey and sriracha; coleslaw that Brandon [Gillis] from Bark Hot Dogs made; fresh corn salad; and amazing lemon cupcakes. Oh, and I don't want to forget the Parker House rolls with soft butter. So, naturally, I had all of it. And Dahlia had none of it, except the icing on the cupcake. To be exact, we shared it: She had the icing, I had the cake. And not only did they have all this food for everybody, but they had to-go containers for everybody, too. Like, what kind of hosts are these? They're so awesome. So I filled up a to-go container and brought it all back for Daniel, so that he could have his for dinner. But for me, by then, I was done. I was totally done.